3.1 Phillip Lim, United Bamboo, and Nepenthes Sample Sales to Help Japan
Must Shops: 3 Sample Sales For Japan
Next
In an ongoing effort to give back to Japan's disaster relief efforts, brands 3.1 Phillip Lim, United Bamboo, and Nepenthes are holding samples sales to benefit the Japanese Red Cross and other select relief organizations. Proof that giving back is always in style.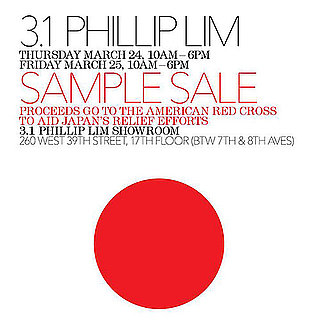 3.1 Phillip Lim will host a rare public sample sale on Thursday, March 24, and Friday, March 25, in its showroom (260 W. 39th St., 17th Floor) from 10 a.m. to 6 p.m. both days. Along with samples and production merchandise, Lim will have other womenswear, menswear, and accessories stocked for purchase.

Stop by United Bamboo's (217 Centre St., 6th Floor) sample sale today and tomorrow from 11 a.m. to 8 p.m. The markdowns will be steep — we're talking up to 90 percent off — and every cent you spend will be donated to tsunami relief efforts.

Menswear boutique Nepenthes (307 W. 38th St., Ste. 201, 212-643-9540) will be donating all proceeds from its sale of Engineered Garments clothing to support victims of the earthquake and tsunami. Patrons can pay the listed amount or opt to pay more than what is suggested; no matter what, your contribution will go toward helping Japan. So let your significant other know it's time to do a little shopping, too!