APC Cobble Hill Overstock Sale, City Winery Winemaking, and More NYC Weekend Things to Do
Weekend Tips: What to Do While Recuperating From Royal Wedding Fever
Next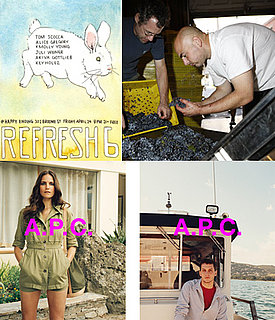 Can you believe that it's barely midmorning and already Kate Middleton is officially a princess and Duchess of Cambridge? I'm three coffees deep and happily exhausted by the great Sugar wedding coverage. If today proves to be somewhat of an energy bust for you — or perhaps this is just the beginning of your British betrothal celebrations? — at least you know you have the weekend to catch up on Zs and carry on with your city adventures. Here are a few weekend warrior options, with full royal wedding recuperation in mind.
The Refresh, Refresh, Refresh reading series is back at Happy Ending (302 Broome St., 212-334-9676)! The witty prose, read aloud by cool media types like Slate blogger Tom Scocca, Vanity Fair's Juli Weiner, and The Nation contributor Akiva Gottlieb, all somehow relates to the Internet and hilarious offshoots to do with the world wide web. If you nerd out on social media even a little bit, I think you'll find this reading series wholly enjoyable. Tonight, the pen mic returns after a four-month hiatus at 8 p.m.

A.P.C. (131 Mercer St., 212-966-9685) will hold a rare overstock sale in Cobble Hill tomorrow! Head to the Invisible Dog Gallery (51 Bergen St., 347-560-3641) for intense markdowns of up to 70 percent on your favorite casual A.P.C. staples. Another Brooklyn Saturday sale on our radar? Williamsburg boutique Catbird (219 Bedford Ave., 718-599-3457) is practically giving away its gorgeous locally produced jewelry. Prices will start at $5, which is reason enough for me to check out the store's selection of rings, necklaces, and various baubles.

Have you ever wanted to recreate Lucy and Ethel's famous grape-crushing scene from I Love Lucy? You're in luck — Tribeca's City Winery (155 Varick St., 212-608-0555) is hosting its third annual Spring crush tomorrow. Be a part of the 2010 Mendoza Malbec crush, which also includes a full guided tour of the winery, a tasting of different regions of wines of Argentina, and a brunch buffet. For $35, you can get wined up, make your own, and chow down, too.