Altamira Models Off Duty Street Style Photographer Craig Arend
A Day in the Life: A Model Safari Afternoon With Altamira's Craig Arend
Next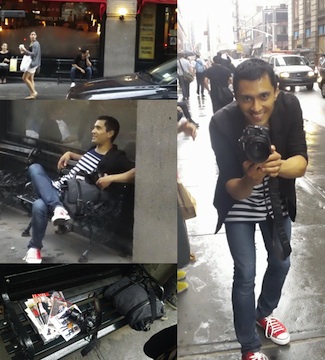 These days, street style blogs are a dime a dozen, but a few set a golden style standard. There's no photographer who has done it quite like Craig Arend of Altamira: Models Off Duty, who's been at it since 2007. Unlike some of his street style shutterbug peers — namely Scott Schuman, Garance Dore, Stockholm Street Style, and Tommy Ton — Arend exclusively captures models on the go: off duty, running from show to show, coming from their respective agencies, and more. His specific approach and sharp eye have catapulted him to the forefront of the fashion photography world. Now, in addition to regularly updating Altamira, he freelances for Vogue, New York magazine, and Net-a-Porter and jets to Paris, Milan, and London to cover the ready-to-wear and couture shows. I recently convinced Arend to let me follow him around one afternoon while he pounded the pavement near his favorite model-sighting haunts. During our "hunt," the man behind Altamira opened up about his methods, his story, how New York City has been invaluably integral to his success, and what's next. Stay tuned for my exclusive Altamira interview!
2 p.m. Craig and I meet on the southwest corner of Crosby Street and Spring Street. I see he's waiting for me on one of the benches in front of Balthazar (80 Spring St., 212-965-1414), so I test out my own candid photography skills (see above).
2:04 p.m. And we're off! First stop: Café Select (212 Lafayette St., 212-925-9322), a quaint little French cafe teeming with models, model types, and generally pretty people.
2:07 p.m. Although there's an undeniably good-looking crowd at Café Select, we don't see any models. Craig tells me this is the life of a street style photographer. There are some days where you get 10 shots and days where you get none.
2:15 p.m. After spending a couple more minutes in the nexus between Kenmare, Lafayette, and Centre Street, we head northeast to Nolita for possible sightings.
2:18 p.m. We're posted up near Spring Lounge (48 Spring St., 212-965-1774) and the coast is clear.
2:40 p.m. Still hanging around. We see a girl sitting on the Duane Reade ledge near Lafayette Street, but can't identify her. We decide against approaching her for a photo. The wait continues!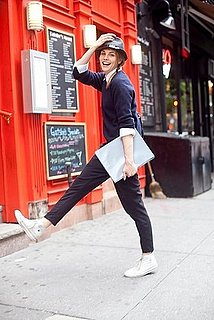 3:00 p.m. We're in business. Craig notices a lanky girl with model portfolio in hand stride by, and it's time to get our first photo of the day.
3:02 p.m. Craig introduces himself to her, asks permission to take her photograph. He sets up the shot in front of Gatsby's (53 Spring St., 212-334-4430) and lets Svetlana do her thing.
3:05 p.m. Of course, she's a pro, posing with a flippant air that looks both chic and cool. I took mental notes for my next night out — I'm going to try my hardest to emulate Svetlana's casual posing during any and all picture taking sessions.
3:07 p.m. Craig talks to her a bit longer: What agency is she with? Where is she from? What is she wearing? and so on. I'm just standing in the background, smiling and nodding and loving it all.
3:15 p.m. We make one more round in Nolita. Craig tells me that the corner of Elizabeth Street and Prince Street is one of the best corners to run into models. And despite the stereotype, he tells me models do eat. In fact, Café Habana (17 Prince St., 212-625-2001) is a model eatery favorite.
3:30 p.m. There are clouds overhead, and there seems to be a direct correlation between the not-so-great weather and the dearth of model sightings outside.
3:45 p.m. We visit Reborn Process (35 Crosby St., 212-226-6306), a blink-and-you'll-miss-it vintage shop started by model Hyoni Kang, stylist Aeri, and photographer J. Craig, who usually stops by here when he's in SoHo since he's become friends with the trio. The store is stocked with amazing clothing and accessories from all over the world. I can't believe I've never been inside before!
4:02 p.m. Still at Reborn Process chatting with the casting director of Vogue Korea. Hanging with Craig is the equivalent of finding the wardrobe entrance to Narnia. I feel like I'm wandering around SoHo with fashion industry insider-tinted glasses on.
4:20 p.m. Heading west to Next Models (15 Watts St., 212-925-5100) to take another stab at possible sightings
4:32 p.m. Sudden rain downpour. Craig and I are unarmed (no umbrellas!) for this monsoon. His camera is waterproof, thank God.
4:44 p.m. Standing under scaffolding, waiting out the rain — not very glamorous.
4:50 p.m. The sun has come out, and we're finally in front of Next Models. It looks very still inside. This might not be our lucky day.
5:01 p.m. No luck. We have to head back east, because Craig has a meeting to get to at La Esquina (114 Kenmare St., 646-613-7100).
5:15 p.m. Before we officially say goodbye, we chat some more on the same Balthazar bench from earlier. A well-known downtown artist on the scene strolls by with his old-school boom box. No one bats an eyelash.
5:25 p.m. Time to part ways! And off Craig goes into the Spring Street horizon.
Source: Altamira