The Beagle Restaurant East Village NYC
Clean Plate Club: The Beagle Impresses With Craft Cocktails and Creative American Dishes
Next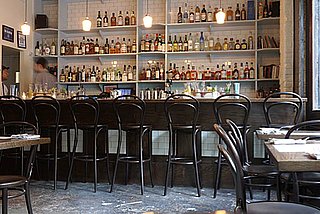 Having moved into the old Orologio space only three months ago, The Beagle (162 Ave. A, 212-228-6900) has already seemed to hit its stride. The Matthew Piacentini-owned East Village spot straddles a handful of moods; it reminded me initially of a restaurant I frequent in Brooklyn then, as time passed, I felt more and more like I was in a bar-restaurant hybrid in London's Hoxton Square area. Needless to say, the vibe is cool. I'm sure it has something to do with the stately wallpapered walls, cutting board platters, repurposed-looking wooden dining tables, brightly lined bar counter top offset by white tiles in the background, and bartenders sporting matching dress vests.
The drink and food menu are equally impressive. In a time where we're prone to immediately labeling a place "bar," "restaurant," or better yet "gastropub," The Beagle is not just one thing. It's a damn good restaurant with a damn good bar to match. I decided to eat here late yesterday evening sans reservations, so I was seated at the bar but this was in no way a punishment. The service was attentive, knowledgeable, without ever coming off pushy or snobby.
While sipping on a solid version of the whiskey smash, piled high with hand-cut mini ice cube rocks and muddled with fresh peaches, I chatted with bar manager, Dan Greenbaum, formerly of Inoteca e liquori bar, The John Dory, and Brooklyn Social. Greenbaum told me that The Beagle is about "creating a place that isn't better at one or another thing. The goal is to offer really good food alongside really good drinks." He couldn't have summed it up more nicely. When I asked him about the inspiration for the menu curation, he settled any conspiracies I had about it having a British flair. "The guy [Garrett Eagleton] who created the menu is a bit of an Anglophile but no, the dishes and drinks are all more classically American. We put our own spin on it. It's important for us to keep it fresh, so our menu is really market and produce driven. There are always little tweaks to the daily offerings. If something is in season, we want to use it."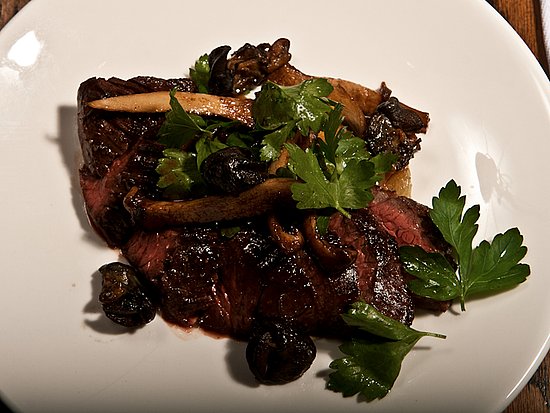 The whiskey smash elixir worked its magic as I feasted first on the burrata and gin pairing board and then my main dish, flat-iron steak served with fushimi peppers, cucumber, chorizo, and cilantro. In a word or two? Unbelievably delicious. The flavors were curious, complementary, and full. The meat was cooked perfectly — medium rare, more rare than medium, so good. Without going overboard with the oohs and aahs, I'll instead recommend that you head east to The Beagle at your earliest convenience. Expect a decent buzz and satisfying food coma.
What we ordered:
Whiskey smash (rye whiskey, fresh peaches, mint, and fresh lemon juice) $12
Burrata and gin pairing board (burrata, braised celery, parsley, arbequina olive oil, and a mini Reisetbauer blue gin martini) $15
Olive oil-poached halibut (fingerling potatoes, leeks, and fish furnet-onnaise) $25
Flat-iron steak (fushimi peppers, cucumber, cilantro, and chorizo) $26
Chocolate custard (served with grapefruit and cornflakes) $6
Wondering what Dan Greenbaum's favorites are? He suggests trying the Adonis cocktail (fino sherry, sweet vermouth, and orange bitters) or the El Güero (mezcal, dolin vermouth blanc, maraschino liqueur, and fresh lemon juice). For dinner? "You can't go wrong with the half chicken," he says.
Source: The Beagle