Beecher's Handmade Cheese Opens in Flatiron NYC
On Our Radar: Seattle Cheese Maker Opens Its Flatiron Flagship Doors Tomorrow
Next
UPDATE: For all you cheese lovers who've been melting with anticipation, here's a head's up: Beecher's New York will open tomorrow. Giddy with fromage fever? The store and cafe will open at 8 a.m. while the cellar will open its doors at 5 p.m. We were right to think that Beecher's would do its New York flagship justice. Along with a ridiculous cheese selection and fabulous antipasti accompaniments, you can chill downstairs in the cellar with a glass of wine and a cheese plate or watch the magic happen at the on-premise cheese-making facility.

Seattle's Pike Place Market cheese factory and shop Beecher's Handmade Cheese (900 Broadway) is set to open a second flagship location some 3,000 miles away — in the heart of the Flatiron. I spotted Beecher's posters in the windows of the building on the corner of Broadway and E. 20th Street last night. According to my research, it looks like we'll be getting a delicious dose of dairy and vino come mid to late February, if all goes smoothly. But we all know how NYC construction goes.
Along with a liquor license notice taped to the door, multiple signs indicate that Beecher's will be a serious cheese shop. Now, I am intrigued — so what is Beecher's? The West Coast cheese maker actually supplies the likes of Murray's, Stinky Bklyn, and Zabar's in New York but has yet to open an exclusive Beecher's space apart from its Seattle residence. Lucky us!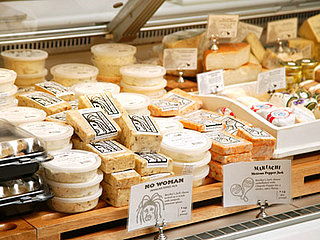 The shop will incorporate a cheese factory, specialty food market, and I'm guessing a fabulous selection of wine to go with. Of course, it will sell its flagship cheese, a cross between cheddar and gruyere, as one of its premiere in-house products. This seems like the perfect after-work stop-off for a cheese-and-wine pairing or just for some stinky take-home treats. Good thing there's a Duane Reade across the street — I have a feeling its Lactaid sales are going to increase very, very soon. Like owner Kurt Beecher Dammeier has said, "New Yorkers are cheese crazy, and New York is just where it all is. If you want to go to the top, that's where you go. They love cheese in New York. Love, love, love cheese." Fair enough.
Source: Beecher's Handmade Cheese