Bendel's, Bergdorf's, and Barney's Show Off Their Holiday Windows
Holiday Watch 2010: The Three B's
Next
No, not booze, babes, and Bud. I'm talking about New York City's "B" hierarchy of shopping: Bendel's, Bergdorf's, and Barneys. It's safe to say that Fifth Avenue was pretty lit up last night. Between passersby trying to sneak a peek under the Bergdorf privacy screens, hecklers stealing glances of Halle Berry as she entered a Bendel's event, and the twinkling Christmas lights that filled me with girlish kid wonder, the city felt alive with holiday cheer. As promised, I've staked out the most anticipated storefront windows (Saks was still cloaked in mystery around 7:30 p.m.) for your viewing pleasure. I haven't decide on a favorite display . . . yet. Take a look and see which "B" really gets an "A."
Henri Bendel (712 Fifth Ave., 212-247-1100)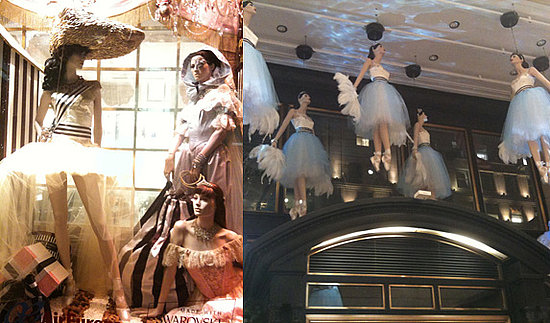 Bendel's visual director Gilberto Santana partnered with the New York City Ballet to present this year's The Nutcracker theme. The ethereal ballerina mannequins are decked out in costumes provided by the NYCB costume shop, re-creating the classic Christmas story. Just inside the main entrance, a half dozen blue-lit ballerinas hang from the ceiling as if they are in constant pirouette mode in a giant jewelry box. I recommend making the rounds on Bendel's ground floor, which has been transformed into its holiday 2010 gift arena — the Bendel-branded cuff bracelets are charming and the soaps smell divine.
Bergdorf Goodman (754 Fifth Ave., 212-753-7300)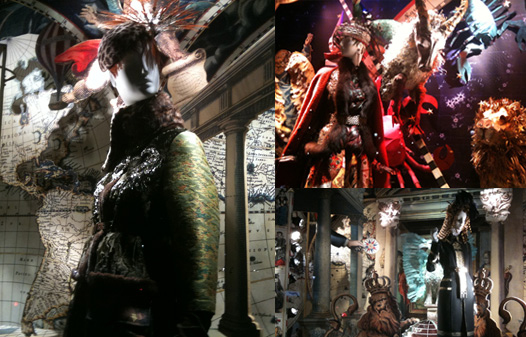 I got a glimpse into the time-traveling fantasy land that Bergdorf's display genius David Hoey and senior vice president Linda Fargo concocted. The windows haven't been fully revealed, but from what I could see the elements are completely magical. Think detailed ancient maps, flying horses, brightly colored galaxies, grandfather clocks, time machines, and Roman columns. The result is mystical but still conveys an overwhelming feeling of holiday fervor. Oh, and in case you were wondering, Hoey and Fargo announced the Polyvore winner yesterday morning after sifting through more than 2,800 window design entries.
Barneys (660 Madison Ave., 212-826-8900)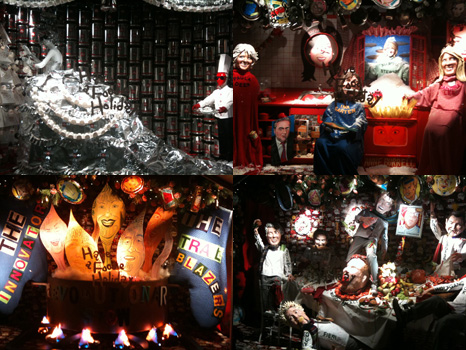 I think the windows say it best: "Have a Foodie Holiday." Barney's creative director Simon Doonan took the word "foodie" very, very seriously; each one showcases some of our most beloved food personalities and chefs in a much less traditional setting. Ina Garten holds a butcher knife in her mouth while next door, a decadent silver tinsel mannequin wears hundreds of Illy espresso cans; in another window, Mario Batali has morphed into a suckling pig, complete with apple in mouth, while the likes of Emeril Lagasse, Anthony Bourdain, and Bobby Flay engage in a messy, vibrant food fight. Besides making me hungry, Doonan's window displays really succeeded in conveying a lighthearted, fun mood — something that the holidays should always embody.