Benefit Cosmetics Will Open First NYC Store on West Broadway SoHo
Benefit Will Open Its First NYC Standalone Store in SoHo Tomorrow
Next
Update: The wait is over. Benefit will officially open its doors in SoHo tomorrow, Sept. 22. I don't know about you but I'm already taking mental stock of what items I'm due for. Let's see here — Benetint and Bad Gal mascara are on the top of my list, what about you? With that, the beauty boom keeps on.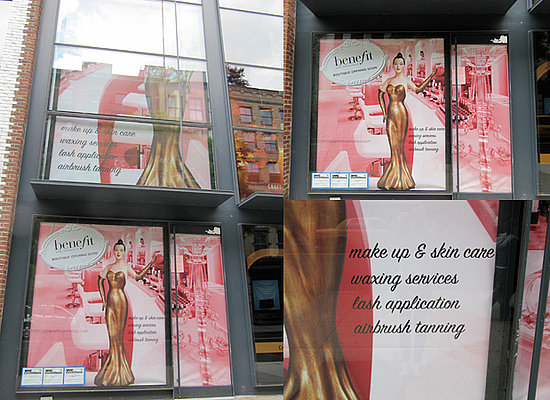 Let the beauty takeover continue on its path of expansion! First MAC adds Bleecker street to its list of locations. That opening seemed to trigger a domino effect I'd like to call the "beauty boom." From there, Nars opens its first proper shop just down the block from MAC, Polish makeup brand Inglot moves into Chelsea Market, Kiehl's announces its fourth standalone location in the Meatpacking District, and Bond No. 9 hatches plans to set up shop under the Highline. Now that we're all caught up, we can happily add Benefit Cosmetics to the boom!
Located at 454 West Broadway, Benefit's soon-to-be official New York headquarters (and first standalone spot in the city) fits in perfectly among the plethora of shopping meccas in SoHo. From the look of its window-front signage, the beauty boutique won't just house the brand's in-demand makeup products. You'll be able to get your fix of "makeup, skin care, waxing services, lash application, and airbrush tanning." Sounds to me like Benefit is taking this move to the Big Apple very seriously . . . and I can't wait.