Best Juice Bars and Smoothies in NYC
Pop 5: Best Juice Bars in NYC
Next
Last week we named your fab five spa locales; today, we continue the wellness streak with something a little more juicy. Literally. Here are your Pop 5 juice bar picks, a compilation of the city's best spots to hydrate with a solid boost of fruit and veggie nutrients and vitamins. We can't think of a more delicious way — count 'em, five ways — to get a daily dose of goodness.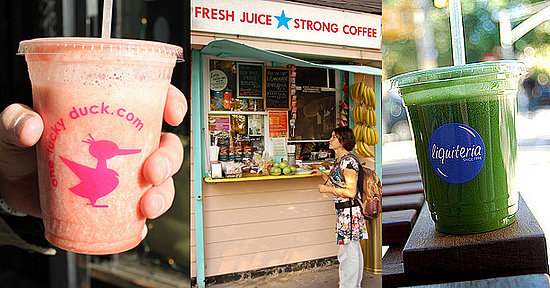 Juicy Lucy Juice Bar (85 Ave. A, 212-777-5829; First Ave. at 1st St.) This tiny juice shack right off Tompkins Square Park is a go-to for reader Tiffany. She says, "I've been going to Juicy Lucy on Avenue A in the East Village for my entire NYC life so, no doubt, they're my favorite!" The smoothies are fresher than fresh — if you're a big fan of citrus flavors, opt for the mango-pineapple-papaya combo.

Liquiteria (170 2nd Ave., 212-358-0300) Mogul Russell Simmons and actresses Rachel Weisz and Natalie Portman all hit up Liquiteria for their healthy hydration fix, so maybe it's time you drink the "Kool-Aid" too. We suggest the Killer for cold days and, for a Summer cool down, try the Grasshopper or Royal Flush.

Second Stop Cafe (524 Lorimer St., 718-486-6850) PopSugar editorial assistant Mackenzie swears by this quaint Williamsburg coffee shop that just happens to serve up some fierce fresh-pressed juices. "I love the bygone-era vibe of Second Stop Cafe on Lorimer Street! Its juices aren't always organic but they are consistently delicious and nutritious! I like grabbing a juice to rehydrate on Sunday mornings while I read the paper on the bench outside or while rehashing the night before with friends amidst a seriously hip crowd." Sold yet?

One Lucky Duck (125 E. 17th St., 212-477-7151; 425 W. 15th St., 212-255-4300) Reality star Whitney Port told us earlier in the Summer that One Lucky Duck is the one place she has to visit while in town. We know you agree. Whether you stop by the Gramercy location or the Chelsea Market stand, you'll be faced with some tough smoothies and shakes decisions. If you're torn, go for the classic green apple pressed juice (jam-packed with apple, cucumber, mint, celery, lime, and spinach).

Juice Generation (various locations) With four standalone locations and an outpost in the Greenwich Avenue Equinox, founder Eric Helms has created a juicing minifleet committed to creating juices and smoothies made with locally sourced and organic fruit and assorted ingredients. For the devoted juice heads, try the supa dupa greens mixture, chock full of kale, romaine lettuce, parsley, spinach, cucumber, celery, lemon, and green apple.
Source: Flickr User NudieFoodie, Flickr User Amy Groark, and Flickr User immaculate_infatuation