Best Margaritas in New York City
Pop 5: NYC Margaritas That Pack a Tequila Punch
Next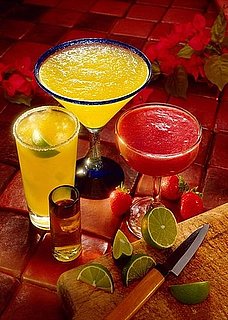 Cue The Champs' one hit wonder "Tequila" as you peruse this week's Pop 5, perfectly timed and curated by your feedback for a margarita-filled Cinco de Mayo. After asking you last week for your top margarita spot musts and what I can only hope was some serious drinking deliberation, the marg standouts have been tallied and tiered. Here's your Pop 5 go-to margarita havens, where the tequila is just right and so is the salt-to-ice ratio.
El Sombrero (108 Stanton St., 212-254-4188) Lovingly known by its late-night loyalists as The Hat (go figure), this established Lower East Side joint has been around for what seems like forever. I'd almost equate it to the Cheers bar, but this version is more along the lines of "where everyone knows your name after midnight but won't remember it in the morning." The frozen margaritas — stay traditional with strawberry flavor — are pretty darn amazing. Slushy, potent, and at $28 a pitcher, you can get about six full glasses of the stuff. Just don't drink too fast: brain freezes are inevitable.

Agave (140 Seventh Ave. South, 212-989-2100) The decor may be more Tex-Mex than authentic Mexican but the drinks are spot on. Plus, it probably doesn't hurt that the bar is stocked with 83 different kinds of tequila. Order an Agave margarita tradicional with the Herradura Blanco tequila and pretend you're on a beach somewhere far, far away from Greenwich Village. If you prefer an icier version, hit up Agave during its happy hour, 4 to 7 p.m., for half-off frozen margaritas.

Mayahuel (304 E. 6th St., 212-253-5888) As part of the Cienfuegos "complex," Mayahuel serves up a deadly margarita, using only the best and most potent tequilas. It's unanimous at the PopSugar NYC office and in the Twittersphere that Mayahuel really takes the cake for this particular drink category. The bar's margarita is classic, no salt, no flash, just all the components that will make you pray to the agave goddess Mayahuel (their promise, not ours). Add to that a dark, rustic cellar vibe and the whole experience becomes very cool.

Barrio Chino (253 Broome St., 212-228-6710) Located at the intersection of the Lower East Side and Chinatown, it seems fitting that both the Latino and Chinese communities are celebrated at this perpetually packed but always chill tequila watering hole. The agave liquor is the star here so order your margarita accordingly. It's a pretty romantic spot so maybe these particular margaritas will act as liquid courage matchmakers?

Rosa Mexicano (1063 First Ave., 212-753-7407; 61 Columbus Circle, 212-977-7700; 9 E. 18th St., 212-533-3350) There's a reason the frozen pomegranate margarita is considered the house signature drink. Need to taste it to believe it? Order it immediately and get ready for a delicious combo of pomegranate juice, tequila blanco, and lime juice, the perfect blend of sweet and tart.
Source: Thinkstock