Best Outdoor Dining NYC
Pop 5: Best NYC Spots For Outdoor Dining
Next
The sun's out, you're off work, and it's time for some food and libations. There's no better way to unwind than outside, soaking up the balmy weather and people watching — preferably with a plate of food in front of you. Last week, we asked you to divulge your go-to spots for outdoor dining. We knew we could count on you — the response was overwhelming and like we suspected, the al fresco options are abundant.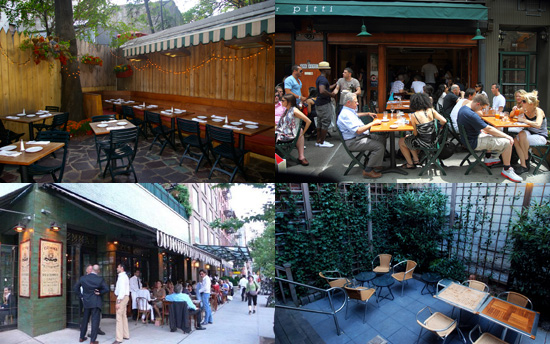 With so many outside options, we have to give credit to The Standard Biergarten (848 Washington St., 212-645-4646), Numero 28 Pizzeria Napoletana (176 Second Ave., 212-777-1555), Zum Schneider (107 Ave. C. 212-598-1098), and Frankies 457 (457 Court St., 718-403-0033) for tugging at our open-air-eats heartstrings. But this time 'round, the top Pop 5 honors go to these restaurants, all of which succeed in creating a perfect ambiance for eating, drinking, chilling out, and making the most of this gorgeous weather.
Royale (157 Ave. C, 212-254-6600) Located in the heart of Alphabet City, Royale serves up casual fare (burgers and fries!) and cheap drinks. Reader Alexandra notes, "Love starting my Saturday nights here — sitting outdoors, watching the Yankees game, eating a yummy cheeseburger, and drinking $3 beers is the best." The back patio is cozy, refreshing, and makes you feel as if you're having a BBQ in your own backyard. Don't mind if we do.

Home (20 Cornelia St., 212-243-9579) Known for its adorable open-air garden in the back, it gets double thumbs-up for offering fresh farm-to-table dishes

to boot

. Take it from reader Devin who says "The outdoor patio is where it's at! If it gets too cold, the staff will turn on the heaters so you can really sit out there any time of year." We're guessing we won't be needing the heaters in the near future, but we'll save that tip for a rainy day (literally)!
Bar Pitti (268 Sixth Ave., 212-982-3300) This West Village authentic Italian haunt never fails to draw a cosmopolitan crowd. Celebrities like Lindsay Lohan, Heidi Klum, Amanda Seyfried, and Tom Ford love to frequent Bar Pitti just as much as you do; needless to say, there's always a wait for the outdoor seats. With its star-studded clientele, homemade-style cuisine, and restaurant-on-the-piazza setup, we think it's well worth the wait.

Gemma (335 Bowery, 212-505-7300) Rivaling that of Bar Pitti, the Bowery Hotel's resident restaurant draws a high-profile crowd. Since the front of the house sprawls almost to the edge of the sidewalk, there's a bit more room (and a greater chance) that you'll get prime outdoor spots. The Italian fare is mediocre, but considering the prime location and volume of beautiful people per passersby capita, we're not complaining.

The Frying Pan (63 Chelsea Piers, 212-989-6363) Docked at Pier 66 Maritime, this ancient-looking ship has become host to countless outdoor brunches, dinners, and afterwork drinking sessions. Although the scene can be fratty at times, you can't beat the location. Lounging on the Hudson as the sun sets is a New York luxury, and we'll take advantage of it every chance we get.
Source: Flickr User Superdimension JunJun, Royale, and Home