Best Vintage Stores in NYC 2011
Pop 5: Vintage Store Musts in NYC
Next
Retail therapy, holiday gifting, and consequent purse string loosening is in full effect. With Black Friday not so far off in the distance, it seems fitting that we scope out New York City's shopping landscape for the most stylish spots, before we fall back on our Zara and Uniqlo laurels. Last week, I asked which vintage stores offer up the most fabulous selections of unearthed treasures, and just as I suspected, you presented me with more than enough oldies-but-goodies to stockpile the most insanely well-edited closet of vintage and thrift finds. So, first, thank you, and second, let's get onto your Pop 5 vintage picks. Spoiler alert: Brooklyn knows best.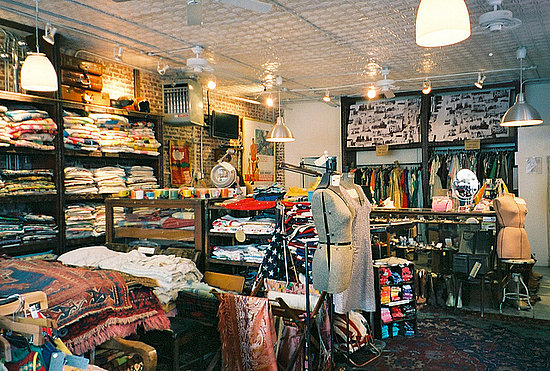 10 Ft. Single by Stella Dallas (285 N. 6th St., 718-486-9482, pictured above): This Williamsburg shop is tucked away beneath the BQE, which makes it even more of an under-the-radar gem. Inside you'll find a lifetime worth of 1970s-era button-down shirts, slightly worn boots, cool concert tees, "bottomless" barrels of scarves, antique jewelry, and even old time-y movie posters. Fashionologie associate editor Christina Perez swears by this Brooklyn destination: "I love it and it's so much bigger than your average vintage shop."

Mafalda (360 Atlantic Ave., 347-987-3470): For a vintage newbie — the store opened in January 2010 — Mafalda certainly has earned some fast and furious street cred as a go-to source for all things old school and awesome. Former Steven Alan buyer and owner Christina Kolbe has been a lifelong vintage lover, so it's no surprise that this Boerum Hill boutique features vintage pieces that fit "whatever the current mood of fashion may be" for a fraction of the cost.

Of the bunch, Beacon's Closet (88 N. 11th St., 718-486-0816; 92 Fifth Ave., 718-230-1630; 10 W. 13th St., 917-261-4863) is New York City's answer to other cult-appeal vintage chains like Buffalo Exchange, Out of the Closet, and countless Salvation Army and Goodwills. While it may not be a niche hideaway for vintage treasures, Beacon's sure does satiate the craving for a good helping of vintage, secondhand, and thrift finds. With its latest Manhattan addition, it's no longer a Brooklyn-only expedition, but between you and me, I'll always love the Williamsburg location best.

Amarcord (252 Lafayette St., 212-431-4161; 223 Bedford Ave., 718-963-4001): The SoHo retail location and Williamsburg showroom are both dedicated to upscale European vintage clothing and accessories ranging from the 1940s to the 1980s. Owners Patti Bordoni and Marco Liotta round up vintage goods, often dead-stock, during seasonal European buying trips, with a focus on their Italian roots.

The once LES-based Fox & Fawn (570 Manhattan Ave., 718-349-9510) is now located in Brooklyn's Greenpoint neighborhood, and it looks like this borough cleaned up nicely in the vintage category. Owners Marissa Johnson and Beverly Hames have created a supremely cool boutique environment for highly edited buy-sell-trade vintage designer garb and street wear.
Source: Flickr User earthtoandrea