Bill Cunningham, New York Times Street Style Photographer, Will Be Subject of Upcoming Documentary
On Our Radar: Legendary Street Style Photographer Bill Cunningham on the Silver Screen
Next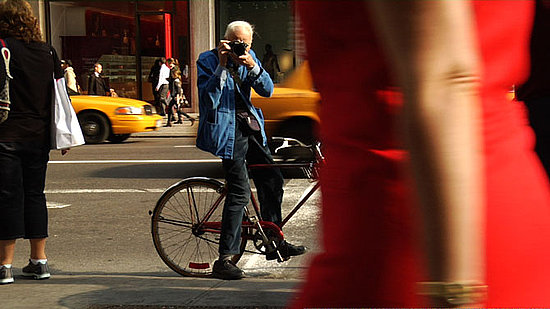 With New York Fashion Week edging closer, you'll want to familiarize yourself with the industry's seasoned players. Among them is street style photographer legend Bill Cunningham, who you'll spot cycling from event to event on his Schwinn, crouching curbside to get the best fashionista shots, and yet he'll still manage to be in his front row seat at the most high-profile shows by the time the lights are dimmed. Now for the first time, the lens is turning on him: on Wednesday, March 16, the Richard Press documentary Bill Cunningham New York will premiere at Film Forum (209 W. Houston St., 212-727-8110).
As resident New York Times Style "On the Street" and "Evening Hours" editor, he's been snapping the stylish garb of the uptown doyennes, the downtown set, and everything in between since 1978. Cunningham is a consummate professional — rain or shine, he's riding the city streets in search of his next photo subject. You could say that his prolific work is an anthropological study of the ever-changing trends captured in the life and movement of a city, rather than just found in one type of fashionable person. I've long been a fan of Cunningham, who in my opinion, epitomizes a quirky, mesmerizing version of NYC. I want to get to know the guy who bikes everywhere, lives in a cabinet file-filled apartment, but also photographs the most glamorous city folk. So often we forget there's a life and multifaceted personality behind the camera too. Watch the trailer below for a sneak peek. In the opening scene, Vogue's editor-in-chief Anna Wintour states, "I've said many times that we all get dressed for Bill." If there's one fashion film you should see as soon as it comes out, this is it.
Bill Cunningham New York Trailer from Gavin McWait on Vimeo.