Bond No. 9 Creates NYC Perfume That Smells Like High Line Park in Meatpacking District
Would You Want to Smell Like the High Line?
Next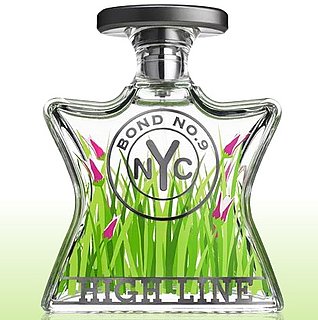 Because now you can spritz yourself with the "world's first railroad perfume." The next time someone gets a whiff of your scent, you can tell them it's Bond No. 9 High Line or just point them in the direction of the perfume's namesake.
So what does smelling like an elevated railroad-turned-park entail? The concoction combines notes of bergamot from the Chelsea Grassland, purple love grass that dots the railroad gravel, Indian rhubarb from the Chelsea gallery district, tulips from the Chelsea-Meatpacking District trail, red-leaf rose, orange flower water, and grape hyacinth from Tenth Avenue Square. As if that's not enough, the perfumers added a hint of sea moss to remind you of the Hudson River and teakwood to remind you that, above all, it's a metro scent set in nature.
To accompany the High Line-inspired fragrance, Bond No. 9 is opening its fifth NYC boutique below the park at 863 Washington St. Coincidence? I think not! No word on the actual move-in date, but I'm curious to see if the newest location will douse itself with the High Line scent.
Source: Bond No. 9