Brian Atwood Monday Sample Sale and Other Shopping News
Weekend Shopping Forecast: Sample Sale Winds and a Monday Blowout
Next

I'm going to jump the weekend gun here and tell you that if you plan on exerting an inordinate amount of energy on only one sample sale, rest up and get going early (like wee hours early) on Monday. Why? Because Brian Atwood, the current shoe-designer-cum-heel-svengali is having his one-day only Fall sample sale. You should expect nothing less than absolute shopping mayhem. 444 W. 17th St., 9 a.m. to 6 p.m., markdowns from 30 to 60 percent off with shoe prices starting at $150. Good luck!
Now, let's backtrack. Here are the designer sales (plus, two more pop-ups) you must hit up today, tomorrow, and Sunday.
Charlotte Ronson 1071 Sixth Ave., Suite 301, markdowns up to 70 percent off, 10 a.m. to 7 p.m. Ends today.
Botkier 421 Broadway, markdowns 50 to 70 percent off, starts today 11 a.m. to 8 p.m.; 12 to 7 p.m. Saturday; 12 to 6 p.m. Sunday.
Vena Cava 457 Broome St., #2F, markdowns from 40 to 70 percent off, 10 a.m. to 7 p.m. Friday; 10 a.m. to 5 p.m. Saturday.
Court 178 Mulberry St., markdowns up to 50 percent off, sale ongoing.
Alexis Bittar 300 W. 22nd St., markdowns from 50 to 70 percent off, 9 a.m. to 6 p.m. through Saturday, cash only.
Rag & Bone Chelsea Market, 75 Ninth Ave., 10:30 a.m. to 8 p.m. Friday; 12 to 7 p.m. Saturday; 12 to 5 p.m. Sunday.
Real Simple pop-up shop (below) 10 W. 49th St., Rockefeller Center, 10 a.m. to 10 p.m. through Monday. (If you stop by around 1 p.m. on Saturday, Project Runway's Tim Gunn will be there signing copies of his new book, Gunn's Golden Rules)
Brooklyn Based mobile pop-up shop Starting at 150 Nevins St., Boerum Hill, tweet @shinysquirrel and @brooklynbased to see where the pop-up truck is headed next, and you can even request the truck make a stop on your block! Don't miss this craft fair on wheels — it only lasts through Saturday.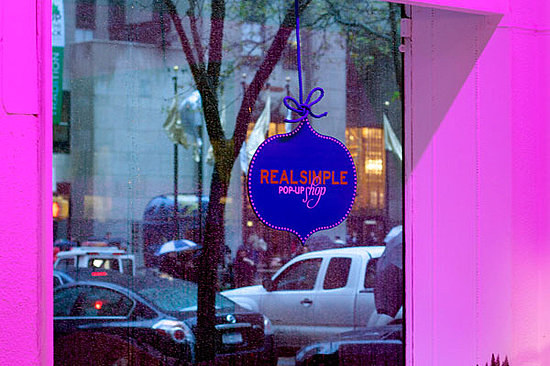 Source: Brian Atwood, Real Simple