Brooklyn Decker and Vanessa Hudgens Talk NYC at CFDA MyHabit Launch Party
Brooklyn Decker, Vanessa Hudgens, and Alexandra Richards Share Their NYC Haunts
Next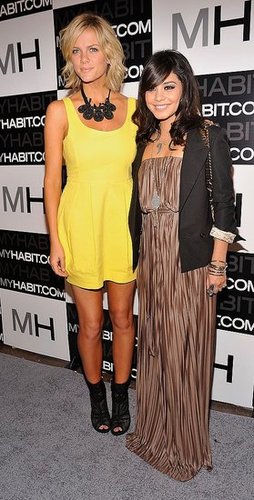 Despite the weather's furious attempts to rain on our parade, the MyHabit launch party, held in collaboration with the CFDA Fashion Incubator, held strong and drew an impossibly chic crowd to Skylight West's (500 W. 36th St., 212-736-6200) rooftop. With sweeping views of the West Side, champagne in hand, Jenny & Johnny performing a short but sweet set with Alexandra Richards on deck to DJ, and a crush of fashion insiders and celebrities holding court, it wasn't hard to catch up with some of our favorite personalities to get the scoop on their New York haunts.
We spotted Christian Siriano, Waris Ahluwalia, Sky Ferreira, Plum Sykes, and Prabal Gurung in the mix — all looking sharp and completely unaffected by the sheets of rain pommeling down outside the protective rooftop tent. First, we caught up with Vanessa Hudgens. Even though she admits to being an Angeleno through and through, we pressed her for her favorite place to shop when she's in town. Her answer? "Jeffrey (449 W. 14th St., 212-206-1272), of course!" Curious to know what else Hudgens shared about her favorite Summer pieces and upcoming vacation plans? Check out FabSugar's full rundown!
Next, we ran into the beautiful and sunny Brooklyn Decker, who based on name alone is someone we should be speaking to. Decker spilled the beans on her Summer plans, her growing excitement for the 2012 release of Battleship, and of course, where she frequents when she's not busy traveling and on a movie set! Decker told us:
On where she loves to eat: "Tanuki Tavern in Hotel Gansevoort (18 Ninth Ave., 212-660-6766) has the best food ever. Oh and there's Dewey's Candy (141 Front St., 718-422-1333) in Brooklyn, in my neighborhood, that I love and it's so pathetic — the owners actually know what I like, so they'll send me baskets of my favorite candy! That just shows how much I go in there, it's embarrassing."

On where she shops: "There's a store Zoë (68 Washington St., 718-237-4002) in Brooklyn and they carry men's and women's. They carry the T by Alexander Wang line. They carry really, really, really cool stuff."

On actually living in Brooklyn: "I live in DUMBO. I love it. I live in Brooklyn, I love it out there. Everything is independently owned, there's no chains. I love it."
To end the night on a high note, we couldn't resist checking in with Alexandra Richards as she got ready for round two of DJ duties. As a triple threat — model, artist, and DJ — living in NYC, it was imperative we found out what spots Richards loves to hit up.
Richards says:
On her main NYC hangouts: "Love going to Tropical 128 (128 Elizabeth St., 212-925-8219), it's kitschy and fun. Oh and Miss Lily's (132 W. Houston St., 646-588-5375) is cool for brunch."
Source: Wireimage