Chinese New Year in NYC — Celebrate on Canal Street Parade and More
Celebrate Chinese New Year: Where to Get in on Year of the Rabbit Festivities
Next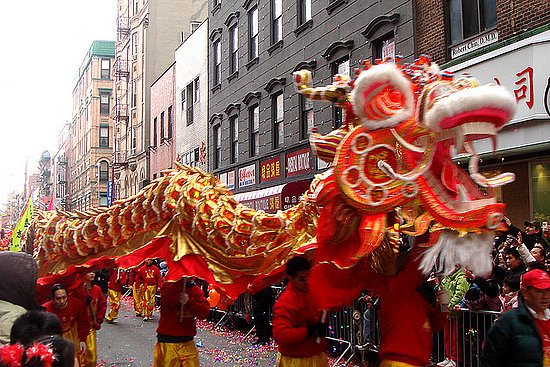 Gōng xǐ fā cái! More commonly pronounced as "gung hee fatt choi" and, in English, "congratulations and be prosperous!" I'd like to wish you and yours a happy Chinese New Year! After a ferocious year of the Tiger, the year of the Rabbit will give us time to rejuvenate and lick our metaphorical battle wounds. Whether you observe the Chinese New Year or just get a kick out of the colorful dragon parade and red envelopes (hopefully filled with money), here are a few festive options for ringing it in today and this weekend.
Make your reservation for tonight's feast collaboration featuring Brooklyn's No. 7 Restaurant (7 Greene Ave., 718-522-6370) and Baohaus's Eddie Huang. The $65 prix-fixe meal includes three family-style courses paired with wine and beer. What can you expect from No. 7 and Huang? Broccoli dumplings, cold noodles, Shanghai duck, red cooked bone-in pork shoulder, pi dan tofu, fried taro balls, mantou bread pudding, and more. Just skimming the menu is making me full. This dining option is still available for the 5:30 p.m. seating but requires a reservation in advance.
For some family-friendly fun, stop by the China Institute (125 E. 65th St., 212-744-8181) on Sunday, Feb. 6, starting at 11 a.m. Among the events planned, you can learn the traditional New Year lion dance, learn how to make dumplings, and create decorative parade masks. It's not just for kids, though, so grab some friends and make a day of it! For nonmembers, it's $90; for members, it's $70.

Everyone loves a parade, right? There's a bevy to choose from. Here are my top three fireworks-filled, steel drummer, and dragon dancer parade picks. The Firecracker Ceremony and Cultural Festival is today from 11 a.m. to 3:30 p.m. in Roosevelt Park (from Canal to East Houston Streets, between Forsyth and Chrystie Streets) and isn't lacking in fireworks fun — plus, you're near countless dim sum spots ready to serve up home-style Chinese cooking in honor of the New Year. Check out the Chinatown Lunar New Year parade and festival on Sunday, Feb. 6. This event attracts a huge crowd — the more, the merrier — because of its theatrics. Everything from marching bands and floats to acrobats, dragon and lion dances, and magicians are in attendance. Get to Canal Street South on the earlier side of 11:30 a.m. because the streets fill up fast. When the parade ends at 3 p.m., expect the festivities to continue on with cultural performances, restaurant feasts, and street fireworks. Finally, the Flushing Lunar New Year parade takes place on Saturday, Feb. 12 at 11 a.m., will start at Union Street and 39th Avenue, and will conclude at Main Street and 39th Avenue.

 
Source: Flickr User Global Jet and Flickr User twinxamot