Dance For Japan at Trophy Bar, Third Ward's Inflatable Sculpture Show, and More NYC Weekend Tips
Weekend Tips: Dance For Japan, Inflatable Art, and the GreenFlea Market
Next
What do an all-night dance-a-thon, inflatable art show, and the GreenFlea Market have in common? The answer: not much, except for their equal worthiness of your weekend attention. Take your pick. But if all you really need is a swift boost of energy before the Saturday-Sunday combo arrives, head to the kombucha kegger at 61 Local tonight!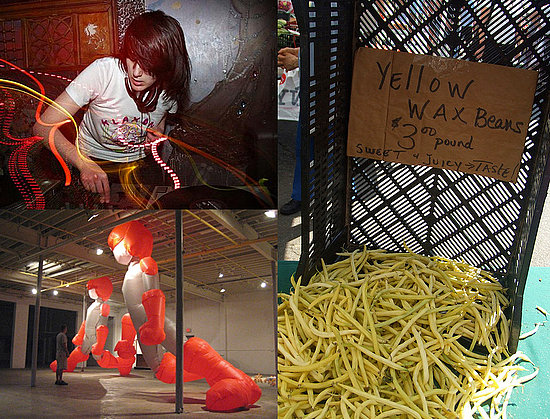 If you're already planning on going out Saturday night, this one's a doozy. Hit up South Williamsburg's Trophy Bar (351 Broadway, 347-227-8515) for an epic night of dancing. From 7 p.m. to 4 a.m., the bar, along with Mamakitten, Farika, and MikeFromNothing, will play host to a Dance for Japan event. Better stretch your limbs because there will be 14 DJs in attendance (including DJs Lauren Flax and Tommy Moye) and $3 beer all night long. Music, charity, and cheap beer are three more-than-good reasons to spend the night movin' and shakin'. There will be a $10 door donation, and all proceeds from the night will go to the Japan Society for earthquake and tsunami relief.

Seeking a new way to get inspired by art? Go here: the Inflatable Sculpture Show at 3rd Ward (195 Morgan Ave., 718-715-4961) on Saturday evening, 7 to 10 p.m. Prepare yourself for a nine-foot-tall nun with laser beam eyes and a giant gumball machine — just two of the inflated art masterpieces awaiting your arrival. Admission is free and so are the drinks.

The GreenFlea Market (Columbus Ave. at W. 77th St., 212-239-3025) on the Upper West Side provides a double dose of eco-minded shopping goodness every Sunday. You can pick up any number of cool vintage and antique treasures or peruse the locally sourced organic veggies and fruits from the open air green market. Hours: 10 a.m. to 5:45 p.m.
Source: Lauren Flax, Patrick Flibotte, and Flickr User Eliane