Euphoria Spa's Couples Massage in Tribeca Teaches Massage Technique and Relaxes You
Monday Detox: Schedule a Couples Massage as a Valentine's Day Retreat
Next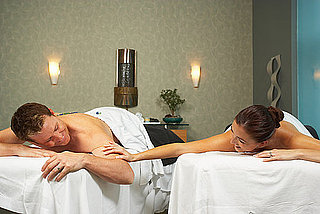 You know you need each other, but do you know how to knead each other? That's exactly the objective with Euphoria Spa's (18 Harrison St., 212-925-5925) couples massage spa treatment, fittingly named Kneading Each Other. For this special edition of Monday Detox, don't let your love turn toxic — instead, make it intoxicating. How else can I say it? Today's the day to "retoxify" your relationship.
The cozy Tribeca spa offers a few couples massage options, but if you're looking to make this a detox gift that keeps on giving, Kneading Each Other is a 90-minute treatment that enlists you and your SO to learn some massage tricks of the trade, too. Take what you master in-house home with you. It's the perfect relationship compromise: pampering, relaxing, educational, and beneficial to you both. To top it off, enjoy complimentary champagne during the session.
For today (and the rest of February), the Kneading Each Other treatment is $100, instead of $260, which makes the learning curve a lot more appealing.
Source: Thinkstock