Five Things You Have to Do This Week: The Black Market, NY Cares Coat Drive, and more. . .
Fresh 5: What to See, Shop, Give This Week
Next
Treat the weeks to come with Darwin's theory of natural selection and may the best holiday events win your favor. With so much to sift through, it's hard to keep track of what pop-ups you just have to see, what new stores are worth trekking to, and what charitable causes deserve a double dose of your attention. That's why I'm here to give you the top five shakedown, even if it means giving you a top five multiple times a week. Please don't miss the following!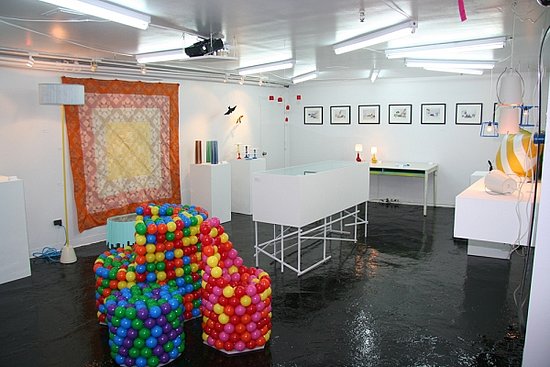 The American Design Club has created a limited-time pop-up for design-savvy folk entitled The Black Market (last year's shop above) at the CultureFix Gallery (9 Clinton St., 877-345-4349). The marketplace is full of inventive pieces by independent designers, including Kiel Mied and Salvor, some of which are exclusive to this holiday one-off. (Open through Dec. 6)
Feeling a little more naughty than nice? Check out the Queen of e.vil's new NoHo spot, appropriately located at 666 Broadway. You may recognize many of the store's bold graphic tees from Madonna's Confessions on the Dance Floor album artwork; if not, there's enough lettered tee cynicism and random Grateful Dead goodies to keep you entertained. Don't miss the pink tape names of e.vil doers on the papered windows, below for your e.valuation.

Mark your calendar: the fab people behind Williamsburg's weekly artisanal flea markets, Artists & Fleas (below), have opened an additional space at 70 North 7th St. (917-541-5760) expressly for the Brooklyn Holiday Bazaar. Kicking off this Saturday, the bazaar will be open for the next three weekends (Dec. 4-5, Dec. 11-12, and Dec. 18-19). Prepare to be wowed by the local indie fare; everyone from Brown Bag Bakery and Another Work in Progress to Luxxor Vintage and Phoenix Botanicals will be in attendance.

SoHo retailer JBNY (75 Greene St., 212-219-2529) has partnered with New York Cares Coat Drive in an effort to provide an extra layer of warmth to the less fortunate. About 90 percent of the homeless adult population are without proper outerwear during the wintertime, so if you have a coat that's eligible for donation, drop it off at JBNY. The store is offering an additional 15 percent off discount toward its in-store merchandise as a small reward incentive. The coat drive starts Wednesday, Dec. 1, and will accept coat donations through Friday, Dec. 31. To find other dropoff locations, check here.
Calling all leggings enthusiasts (that includes people like me who wear leggings under their jeans during the Winter)! Leggings designer David Lerner has opened a pop-up shop on the Upper East Side (Lexington Avenue and East 94th Street) that give the masses what they want. The leggings come as basic or as creative as you could imagine — think color-block patterns, corset detail, leather paneling, or just some good ol' black spandex to keep you warm.

Source: American Design Club, Artists & Fleas, and David Lerner