Gay Couples Get Married at Central Park Pop-Up Chapel NYC
Save the Date: 24 Same-Sex Couples Are Goin' to the (Pop-Up) Chapel
Next
Weddings are always a happy occasion, but in light of the recent bill that passed on June 24 legalizing same-sex marriages in New York, unions are positively gay and joyous. The bill comes into effect as a fully institutionalized law this Sunday, July 24. In honor of this momentous moment in our civil rights history, a grassroots event has taken shape in the form of Pop-Up Chapel. The temporary chapel, in collaboration with The Knot, will wed 24 same-sex couples at Merchant's Gate in Central Park on Saturday, July 30, 2011.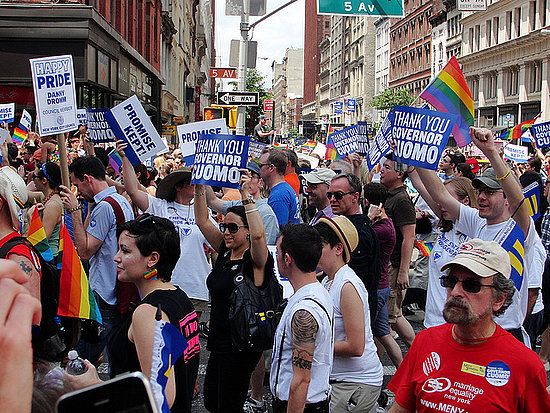 Why 24 couples? Because the bill passed on June 24, and the bill will become a law on July 24. Each couple was selected on a first come, first-served basis; now the chosen duos will be hooked up with their respective dream weddings. Yep, that includes an officiant, photographer, flowers, witnesses, stylists, cupcakes (this is NYC, after all!), and the prime realty.
Local and national merchants are extending their services free of charge for the big day times 24. Here's the wedding day dream team lineup: The Knot and Rebecca Joyce of Just About Married will plan and design the weddings, David Stark Design will be the official florist, and CityCakes will donate customized cupcakes to each couple and their attendees.
I spoke with event creator Bex Schwartz and The Knot editor Anja Winikka about the upcoming Pop-Up Chapel nuptials. Want to know what they had to say about the epic succession of weddings?
PopSugar NYC: What are three words to describe how you feel about being able to finally hold a wedding like this?
Bex Schwartz: Elated, thrilled, joyous, and . . . overwhelmed.
Anja Winikka: Excited, grateful, and in awe.
PSNYC: How did you go about choosing the NYC vendors that are partnering for the event?
BS: We have been incredibly lucky and fortunate that the city of New York has been so supportive. We didn't actually go out and choose anyone — they came to us and offered support and donations. They chose us! And we love them. They are amazing and we couldn't be happier.
AW: We've been so lucky that so many wonderful companies have shown their support of same-sex marriage and Pop Up Chapel with The Knot.
PSNYC: When the bill passed on June 24, the city had an indescribable buzz and it was amazing to witness the out pour of happiness from everyone across the board. How did you celebrate?
BS: We were at Therapy (364 Lewis Ave., 718-513-0686), a great wine bar in Bed-Stuy, and we drank an obscene amount of wine and befriended everyone in the bar by sharing the exciting news and drinking toasts to equality. We also sent out celebratory tweets and there were a few tears shed. More than a few.
AW: Beyond being at a bar with friends and toasting to this historic event, I immediately started brainstorming ways to welcome all the new couples who can now get married to The Knot. First thing Monday morning we added a welcome message on our homepage for all same-sex New York couples.
PSNYC: The number 24 is hugely significant and meaningful — are you planning on incorporating it into the day in any other way?
BS: Beyond probably not sleeping for the 24 hours leading up the event? I'm sure the number 24 has incredible significance beyond being the date that the marriage equality act passed and the date that same sex marriage becomes legal in NY. Let's see, we could ask Kiefer Sutherland to take down any bad guys, if he's available. We have 24 couples getting married, and that means 24 awesome gift bags and 24 mini-wedding cake cupcakes, and 24 customized, unique wedding ceremonies. And 48 rings and 48 vows! 24 times two!
AW: The number 24 will be incorporated in the most important element of this day — the couples getting married! 24 deserving couples will walk down the aisle and finally marry the person of their dreams.