Get an Eyebrow Wax at the Benefit Brow Bar in Bloomingdale's SoHo
Beauty Beat: Benefit's Brow Bar
Next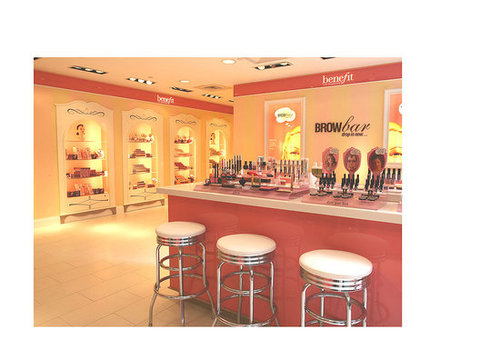 I have to give credit where it's deserved. Benefit always wows me with its packaging and color palettes, so I figured it's high time I put the cosmetics company in charge of my eyebrow aesthetic. We're no strangers to Benefit's signature Brow Bar here, but I've always been the spectator, never the participant. Today, it was time to make the switch.
I walked into Bloomingdale's SoHo (504 Broadway, 212-729-5132) and headed directly for the Benefit counter. As advertised, you can just "drop in," so I did just that. To find out if the Brow Bar is a hit or miss, .
Brow Bar artist Laura gave me a quick brow-shaping consultation and explained how she would perfect my arch, clean up the ends, and keep my face set without removing too much hair. The waxing was painless (thanks to Benefit's ultra-calming wax), and the wax-off solution was absolutely luxurious. It smelled of coconut, Summer, and piña coladas and felt like the silkiest cooling balm. As a bonus, Laura filled in my brows with Benefit's Brow Zings and masked any redness with the brand's Boi-ing concealer, so I walked away looking polished, not plucked. I felt surprisingly at ease having the wax done in a relatively public place. Laura was so kind and such a brow expert (thank goodness!) that I almost forgot where I was. The final assessment? A definite home run.
The benefits of Benefit's Brow Bar:
No appointment necessary
On-hand Brow Bar artists for consultation, waxing, tweezing, and shaping (ask for Laura or Luna in SoHo)
Minimal pain factor and swelling/redness
Option to have brows filled on site
Post-wax shopping, of course
For more Benefit Brow Bar locations, check the brand's official site here.
Source: Benefit