Giada De Laurentiis at New York Wine and Food Festival 2011 (Interview)
Giada De Laurentiis Reveals Her Meatball Picks, Favorite NYC Restaurants, and More
Next
Last night marked the start of the NYC Wine & Food Festival and with it came an extreme case of meatball madness. Literally. To host the night's San Pellegrino-sponsored meatball showdown — and with more than 25 renowned chefs vying for top honors — the Food Network's first lady of Italian cooking, Giada De Laurentiis, was on hand to welcome the hungry masses. Not only did De Laurentiis showcase her own meatball-making skills, but she and festival founder Lee Schrager (pictured above) also made the rounds to taste-test each and every meatball in the house.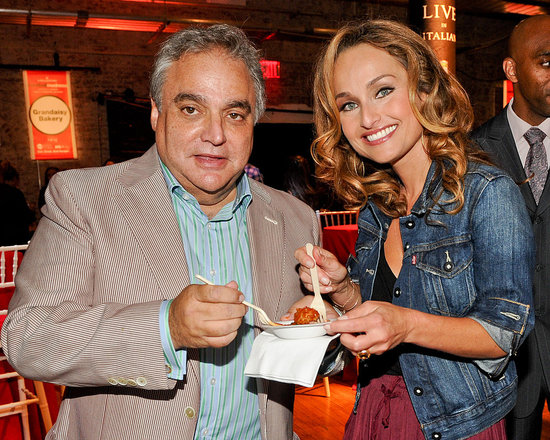 I caught up with the beautiful De Laurentiis, pre-meatball-induced food coma, of course, to find out if she had any early-evening favorites, where she goes to eat when in town, and more. Keep reading!
PopSugar NYC: As host of Meatball Madness and after sampling all 25 meatball contenders, do you have a shoo-in for tonight's top honors?
Giada De Laurentiis: I have a couple, but I don't think I should share yet! It's not fair . . . yet. I will tell you that the Greeks [Kefi (505 Columbus Ave., 212-873-0200)] rocked it, and there's a rabbit meatball that's pretty darn great. You have to find it.
PSNYC: It's great to be celebrating food in NYC for the next couple of days to such an exciting degree, what are some of your favorite restaurants here?
GDL: It definitely depends on the mood I'm in. I go a lot to Maialino (2 Lexington Ave., 212-777-2410), which is here tonight. I went to Lupa (170 Thompson St., 212-982-5089) and got my favorite pasta, the one with fennel and lemon. It's very light, but it's absolutely delicious. And I have to have the tartufo for dessert, after that I'm set. Last but not least, I love Il Gattapardo (33. W. 54th St., 212-246-0412) by the MoMA.
PSNYC: Are there any food trends that you wish would go away for good in 2012?
GDL: The idea of low carb, no carb, and fat free — they don't exist!
PSNYC: What else is in the pipeline for you?
GDL: I just shot a show in Bora Bora, a prime time show called Giada in Paradise, which was awesome. I start shooting Giada at Home in about three weeks, and I have a cookbook coming out in April 2012. So . . . a couple of things!
Source: Neil Rasmus/ BFAnyc.com