Girl Talk, Passion Pit, Big Boi, and More Perform at the Governors Ball Music Festival in June 2011
Summer Lovin': The Governors Ball Music Festival
Next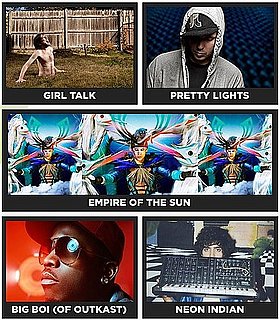 Initially, it was pretty depressing to digest this news: no Jelly NYC Pool Parties this Summer? Where would we wile out to great music in the hot, hot heat if not at McCarren Park Pool in Williamsburg? Looks like NYC music magnates The Highline Ballroom, The Bowery Presents, and Founders Entertainment saw an opportunity to fill the void and seized it. Thank God.
Kicking off June 18, The Governors Ball Music Festival will take over Governors Island for a jam-packed day of insanely good musical performances. The lineup includes Girl Talk, Big Boi, Passion Pit, Mac Miller, Pretty Lights, Neon Indian, Empire of the Sun, and more. Unlike some festivals, there won't be any overlapping sets, so you won't risk missing a minute of the action. Early bird tickets have already sold out, but you can still get limited advanced tickets for $85. Once the limited advance tickets sell out, the regular priced $95 tickets will become available. Save yourself some money and act fast.
The next step in Governors Ball prep will be to find a perfect hipster headband, a rad fanny pack, and one of those travel-sized fan misters. Rain or shine, this music festival will uphold the tradition of sweating it out to the sweet sounds of Summer.
Looking for a more wallet-friendly fest? Stay tuned to the Twitter feed for 2011 SummerStage, which just started leaking the names of its performers. First up: Talib Kweli and Pink Martini.