Interview With Twelve Oaks Bakery's Caroline Saudek and Katherine Coyne
Getting Fresh With. . . Twelve Oaks Bakery
Next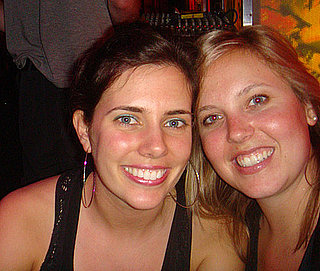 What started as a sweet hobby in London has morphed into a smashing bakery success run from a New York City apartment. Since moving to the city only a handful of months ago, Twelve Oaks Bakery owner Caroline Saudek and her business partner Katherine Coyne (both at left) have whipped up countless batches of mouthwatering treats for city folk and corporate clients all over Manhattan. The list is impressive: Stella McCartney (429 W. 14th St., 212-212-255-1556), Pepsi, Nike (720 Ave. of the Americas, 212-367-4400), Retail Space Partners, and Brooklyn boutique favorite Thistle & Clover (221 DeKalb Ave., 718-855-5577). What's more is that with all the fierce dessert competition out there, Twelve Oaks is doing swimmingly well — a real New York fairytale. I have a feeling it has something to do with the seriously addictive cake bites and delectable macarons, but hey, maybe it's a secret ingredient I'm not allowed to know about. Whatever it is, I hope they don't have to keep their day jobs much longer, otherwise Twelve Oaks fans will be knocking down Caroline's apartment door.
Caroline and Katherine let me in on where they satisfy their sweet tooth cravings (when they're not baking for others!), how to get into the holiday spirit, and what city 'hood they'd love to open their first bakery location in. Get to know New York's next big (baked goods) sensation!
FreshGuide: How did Twelve Oaks get its name and its start?
Katherine Coyle: Caroline first started Twelve Oaks — named after Ashley Wilkes's plantation in Gone with the Wind —  when she was living in London and wanted to put her favorite hobby to good use. It started with baking for study groups, work parties, and friends' birthdays, and soon the business was born. Caroline hopped back over to this side of the pond and we joined forces!
FG: And you both have day jobs?
Caroline Saudek: Yes. I work for the Ubuntu Education Fund and Katherine works for Sotheby's.
FG: Aside from juggling your day jobs and the Twelve Oaks "apartment bakery," what's the hardest thing you've had to work around?
CS: We are very protective of our treats and have a hard time handing them over to city bike and foot messengers. So, we usually try to deliver them ourselves during our lunch breaks, which has resulted in the odd parking ticket, missed meetings, or crazed mad dashes across town. But! They always arrive on time and are delivered with love.
FG: Are there any signature Twelve Oaks treats? And for those interested, how can they get their hands on them?
KC: Caroline's signature is buttermilk cupcakes with lemon cream cheese frosting. They're unreal. And I make a stellar cheesecake — the best in New York!
CS: Yeah, Katherine's [cheesecake] family recipe is a closely guarded secret. Even I'm not allowed to be around when she bakes it. I've dubbed it "secret agent cheesecake!"
KC: For any and all Twelve Oaks orders and inquiries, you can email us at: thebaker@twelveoaksbakery.com.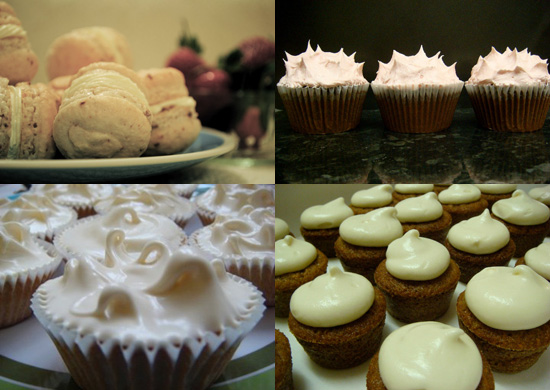 FG: When do you plan on opening up shop or, more literally, a free-standing haven for Twelve Oaks fanatics?
CS: It's definitely going to be a tough call. I'm an East side girl and Katherine's more West side. I can tell you this much: it's going to be downtown Manhattan, no matter what!
FG: Why do you think New Yorkers can't get enough of cupcakes and the latest, macarons?
CS: Well, macarons are one of the world's most perfect desserts so it's no surprise that New Yorkers are obsessed — they have good taste! As for cupcakes, we think it's because they are just so darn cute. Sure, a slice of cake tastes just as good and is less messy but New Yorkers believe in fashion over function, right?

FG: Time for lightning round! Best cupcakes in the city (apart from your own)?
KC: Chikalicious (203 E. 10th St., 212-475-0929) and Crumbs (various locations).
FG: Pick one — Magnolia or Buttercup?
CS: Buttercup (973 Second Ave., 212-350-4144; 141 W. 72nd St., 212-787-3800).
FG: Best place to get cookies?
KC: Momofuku Milk Bar (207 Second Ave., 212-254-3500) has the best cookies in the world!
FG: Crepes?
CS: The banana Nutella crepes at Bistro 61 (1113 First Ave., 212-223-6220), love.
FG: New York specialty?
KC: Cheese blintzes at Russian Tea Room (150 W. 57th St., 212-.581-7100).
FG: Favorite restaurant (when you're not tending to dessert cravings)?
KC: Buddakan (75 Ninth Ave., 212-989-6699) — food and drinks are amazing.
FG: Favorite place to grab a drink?
CS: The Immigrant (341 E. 9th St., 212-677-2545), it's a cozy little wine bar in the East Village.
FG: Next NYC food trend?
CS: Cake bites — little balls of cake dipped in melted chocolate, yum!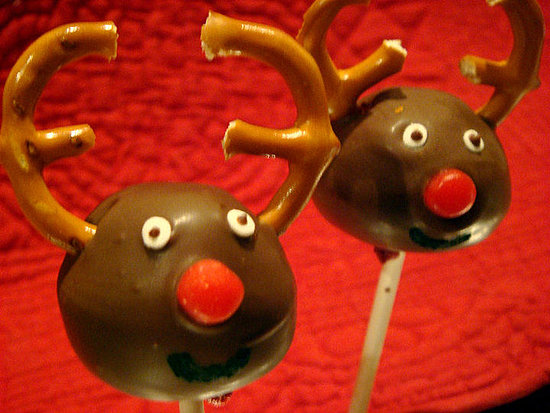 FG: Way to get into holiday spirit?
KC: Two words: spiked eggnog.
CS: Preferably at Waterfront Ale House (540 Second Ave., 212-696-4104).
Source: Twelve Oaks Bakery