Interview With Vena Cava's Sophie Buhai and Lisa Mayock About Spring 2011 in New York City
Vena Cava's Designer Duo Dish on NYC Spring Essentials, Brooklyn Street Finds, and More
Next
Without hesitation, Vena Cava is on my shortlist of must-wear brands, and the designer duo and BFFs Sophie Buhai and Lisa Mayock are two of the coolest PopSugar City girls I know. The ladies haven't taken a break since debuting their 2011 Fall collection in February. Currently, Buhai and Mayock are in Vietnam, rounding up inspiration for Spring 2012 (talk about springing forward). They just launched their awesome new ecommerce site, and even a world away, they still managed to give us the inside scoop on what every New York girl should have in her Spring wardrobe, where they find inspiration in the city, the best street "treasures" they've come across, and more.
PopSugar NYC: As a fellow West Coast defector, I'm curious, what was it about NYC in the initial stages that made you stay indefinitely?
Sophie Buhai: We both attended Parsons, so school is what brought us out to NYC. New York is really the place to be if you want to start a small fashion line; the industry is very supportive, and you have access to amazing production and all the editors. We felt very connected to an emerging group of designers who were all starting brands around the same time. The early 2000s were when the word "young designer" was exploding, and the economy was ripe for new talent. We were lucky to be in New York during that time, I don't think that could have happened if we had been in LA. We hope to make it out to LA at some point . . . perhaps when we launch our caftan line!
PSNYC: Congrats on the new site! It looks amazing and stays very true to your aesthetic. What piece from your Spring/Summer collection do you think every New York girl should own?
Lisa Mayock: Thank you! I think every girl needs a long red monarchy skirt [pictured above, middle]. After seeing so many body-con clothes for the past few seasons, long and feminine looks so new. Wearing anything with that much fabric in it is like an adventure in femininity.
PSNYC: I know you're currently in Vietnam, drawing inspiration from your visit there, but when in NYC, where do you get most inspired?
SB: The people in New York are the most inspiring — the subway is great because it's one of the only places you can just stare at people uninterrupted! Wandering around the streets and looking at all the different characters and outfits is inspiring. I love looking at old ladies on the Upper West Side, Italian men in Carroll Gardens, hipsters in Brooklyn, and the dancers leaving Dance New Amsterdam (280 Broadway, 212-625-8369).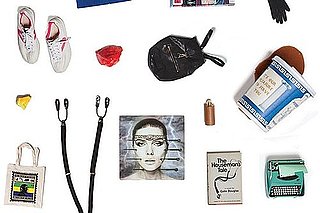 PSNYC: The "garage sale" tab featured on the new site is great (pictured at right). What are some of the best "treasures" you've found on the streets of NY?
LM: New York, and Brooklyn even more so, is full of incredible street gems. I've scored records, weird trash that I use as "art" to decorate my apartment, a great pair of high-waisted gabardine pants that were left on a fence with a handwritten sign that read "free!," and my desk. But my ultimate find was my gorgeous mahogany kitchen table. I discovered it just as its owner had left it outside. He was so psyched that his table was getting a good new home that he called me a car service and helped me load it in the van. Whoever says New Yorkers aren't nice has never spent time in Brooklyn.
PSNYC: Now that we're hopefully seeing the last of Winter, what are you most looking forward to doing in the NY springtime, arguably the best time of year?
SB: Oh! Spring in New York is like fashion rebirth. I'm looking forward to wearing a uniform of high-waisted jeans, long skirts, and leotard tops, and off the shoulder blouses, all with Grecian sandals and colorful headscarves and buns. I love the idea of young women dressing elegantly and simply. It's almost outrageous to wear something without holes, or better yet something that matches. Youth elegance is actually sort of punk in a strange way. Being 25 and dressing 85 is radical and very chic!