Local Etsy Designers Sell Goods at Pop-Up Shop in West Elm on Broadway NYC
West Elm Hosts Etsy Pop-Up Shop Tonight Only!
Next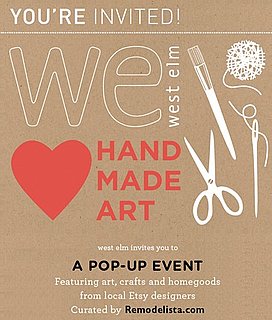 File this event under "awesome." Head over to West Elm (1870 Broadway, 212-247-8077) for a one-night only Etsy pop-up shop from 6 to 9 p.m. If the evening unfolds the way I've dreamed about in my crafty wannabe fantasies, the mod furniture store will be dripping in the city's coolest Etsy vendors' goodies. That way, we can "ooh" and "aah" and hopefully take a token or two home with us.
Remodelista has lent a curating hand to the pop-up presentation, having chosen its favorite local artsy designers to represent on behalf of handmade art everywhere. OK, maybe that's a little intense, but hey! I'm excited. Here's what to expect going in: lots of hand-crafted things — from home goods to baubles and stationery — and lots of people. With only three hours for Etsy to showcase just a fraction of its greatness offline, you know it's going to be a DIY madhouse. The event is free but to attend, you must RSVP here.