NYC Desserts to Celebrate PopSugar NY: Sweet Revenge, Levain Bakery, and More
4 Sweet Ways to Celebrate PopSugar NY
Next
Notice anything different? Our very own shiny new toy, complete with snazzy name change, face lift, and a ton of other exciting changes! But don't fret — we may look different but we're still the same "person" on the inside. Expect nothing less than fun, informative, and original content coming your way daily. Representing our favorite city alongside our sister sites PopSugar, FabSugar, BellaSugar, and more is definitely worth a seriously sweet (and boozy) celebration, don't you think? Here are just a few ways to make the launch of PopSugar NY a sugar-filled occasion.

The West Village bar-meets-boozy dessert mecca Sweet Revenge (62 Carmine St., 212-242-2240) serves up equal amounts of liquor and sweets, which makes it a main date night attraction. So much so that it was recently nominated for best cheap date spot! If you haven't had the chance yet to sample one of its signature cupcakes with a wine pairing, make PopSugar NY your excuse. Try the Sweet Revenge (peanut butter cake, ganache filling, and peanut butter fudge frosting) cupcake with a glass of the Las Perdices malbec for starters.
Interested in other sugar high options? .
Levain Bakery (2167 Frederick Douglass Blvd.; 167 W. 74th St., 212-874-6080), beloved Upper West Side purveyor of cookies, muffins, and generally delicious treats, opened its second city location in Harlem on Tuesday! Looks like we're not the only ones spreading the sugar love. Since the bakery is best known for its unreal chocolate chip cookies, I suggest you try out this oldie-but-goodie to see if it passes the new locale test.

Have you been to the new The Plaza Food Hall (1 W. 58th St., 212-986-9260) yet? It reminds me of a cross between Harrods in London and Eataly. Although this likeness is not a bad thing. Chef Todd English has been quite busy these days, launching this dining experience simultaneously with Ember Room, his joint venture with chef Ian Chalermkittichai. The European-inspired specialty food hall has its own bakery (pictured below), which is what you should make a beeline for. Cupcakes, pastries, chocolates, and breads, all customized by English . . . you deserve to indulge.

One more sweet tip for you: check out the latest openings from Little Brown (1269 Lexington Ave., 212-828-2233) and the Doughnut Plant (222 W. 23rd St., 212-243-3700) at Hotel Chelsea. I know I've already given you the head's up for both, but I don't think a sugar overdose is such a bad thing.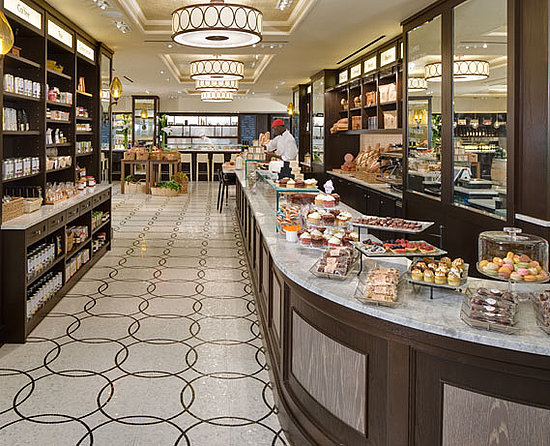 Source: Sweet Revenge and The Plaza Food Hall