Naomi Yasuda of Hello Beautiful! Salon Makes Nail Art for Lady Gaga, Kim Cattrall, and Alicia Keys
Beauty Beat: Nail Art by Naomi Yasuda of Hello, Beautiful! Salon
Next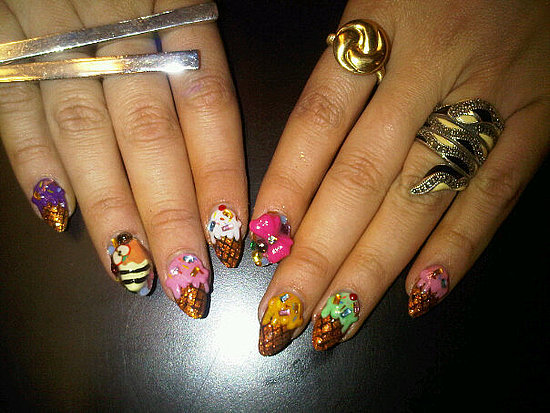 An afternoon spent at Williamsburg salon Hello, Beautiful (218 Bedford Ave., 718-387-4732) will, yes, make you feel beautiful, but the girlier-than-girly spot will also brighten your days to come. Let owner Naomi Yasuda treat your nails to an insane manicure-meets-artist's prerogative. What do I mean? Just see some of the remarkable designs she's managed to tack onto willing talons — think ice cream cones, dollar bills, Mondrian-inspired designs, and frilly polka dots.
Yasuda has transformed the nails of Lady Gaga, Kim Cattrall, Alicia Keys, Estelle, and Amanda Lepore — so you're in good company. I think it's pretty safe to say, the crazier the design, the better. No holds barred here, with good reason.

If you're not brave enough to get crazy with your talons, a fab haircut from Hello, Beautiful! is just as uplifting. Don't let the vixen stylists intimidate you; the salon staff is super friendly, exceptionally talented, and refreshingly experimental (when necessary).
Source: Naomi Yasuda NYC