New Madewell Store Opens on Fifth Avenue in New York City
Just Opened: Madewell Hits Fifth Avenue With Largest Store Yet
Next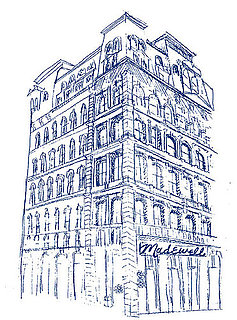 We're big fans of Madewell (115 Fifth Ave., 212-228-5172; 486 Broadway, 212-226-6954) at Sugar. Our giddy excitement over the Madewell x Bird collaboration in March was all too real, and as of yesterday, our fan girl status has doubled in size (literally).
Madewell just opened its second set of NYC doors on lower Fifth Avenue, and it's the brand's largest store yet! The latest addition inhabits a landmark building built in 1868 by architect Griffith Thomas. To create a final product that would reflect a very New York City-centric state of mind while still paying homage to the historical building it inhabits, Madewell enlisted its in-house design team to restore interior wood panels, original storefront moldings, cast iron columns, ornate Corinthian capitals, and the entire 19th street facade. Pretty amazing, right?
To properly herald in the Fifth Avenue opening, Madewell will host a pop-up shop called Hometown Heroes for two weeks. This rad pop-up will stock Madewell's favorite NYC brands, including JF & Sons, Top Hat, Love Adorned, Erie Basin, In God We Trust, Albertine, Bowery Lane Bicycles, Other Music, Quality Mending, and more. I can't wait to check it out and share some great finds in the process! Stay tuned for an inside look at the store, the Hometown Heroes pop-up, and fun NYC style sightings.