Nicky Hilton Interview at DL1961 Party NYC
Nicky Hilton Reveals Her NYC Must Shops, Holiday Plans, and More!
Next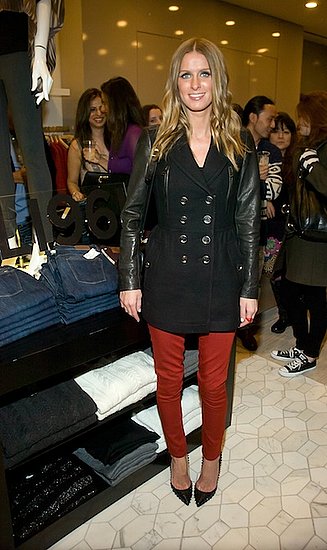 Nicky Hilton looked cool as a fiery hot cucumber last night at the DL1961 Black & White party at Denim Habit (346 W. 14th St., 646-430-8600). The stylish LA-based jewelry designer and girl about town donned bright red skinnies, a Burberry pea coat, and spiked Louboutins. And while her wardrobe choices rocked, I was particularly impressed with her New York City know-how. When prompted to reveal her go-to shopping spots during the holiday season or where exactly she has to visit when in town, Hilton dished resoundingly awesome recommendations. Yes, Los Angeles may be her primary stomping grounds, but that doesn't mean she doesn't have real love for the Big Apple. Curious to know where exactly this bicoastal jet-setter jets to in the city? Read on for Hilton's favorite sweet treat spots, shopping musts, holiday plans, and, well, her "strategy" on traveling to and from NYC.
PopSugar NYC: Where do you love to do your holiday shopping in the city?
Nicky Hilton: Bergdorf Goodman (754 Fifth Ave., 212-872-2700) for sure. I could spend all day in there. My favorite restaurant in the entire city is there — the cafe [Goodman's Cafe] on the bottom floor.
PSNYC: Is there one thing you are dying for this season?
NH: Anything Rick Owens!
PSNYC: Do you have any plans for the holidays?
NH: I'm going to go skiing in Aspen with my family, but I'll be back in New York City soon.
PSNYC: For any particular occasion or event?
NH: For work and for fun. I'm working on my jewelry line and a few other interesting projects, so stay tuned.
PSNYC: We have to end on a sweet note, so can you tell me where it is that you love to treat yourself?
NH: I love Magnolia (various locations) — they have great cupcakes. Like I mentioned before, my favorite restaurant is Goodman's in Bergdorfs. And the best chocolate chip cookies are at Greenberg's (1100 Madison Ave., 212-861-1340) on Madison, they're paper thin and so tasty.
PSNYC: We agree! When will we be seeing you next in New York?
NH: Not sure, but the thing about coming here is that I really do love it. Whenever I book my flight from LA, I book a one-way ticket. That way, you never know when I'm coming and going.
Source: WireImage