Paul Frank Academy of Awesome Party at Powerhouse Arena Dumbo NYC
Weekend Monkey Business: Paul Frank's Academy of Awesome
Next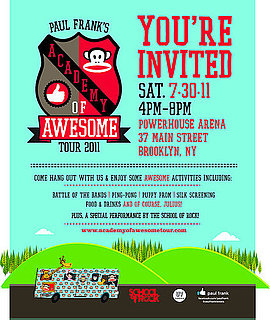 The weekend is for monkeying around, right? Get into the spirit the most authentic way we know how — without going to the zoo, that is. Head to Dumbo's powerHouse Arena (37 Main St., 718-666-3049) tomorrow from 4 to 8 p.m. for the Paul Frank Academy of Awesome mobile tour party. Since this is the kickoff of monkey madness — and in NYC no less — there's going to be a plethora of fun for all ages and walks of life.
Here's a sampling of what's on deck for the day. The Academy of Awesome will feature a creation station where you can snag custom screen-printed tote bags, Skurvy's temporary tattoo parlor, a ping-pong tournament, a national rock-paper-scissors tournament, an interactive music listening lounge, a social networking and gaming lounge, and a battle of the bands. Have a dog? Bring the pup, too! There will be a puppy prom and a VIP barking lounge.
As for the reason this pop-up academy even exists? The Paul Frank RV is road trippin' around the country, with more than 50 stops on its to-do list. The tour gives fans of the brand — and people like us who may just want to monkey around — a chance to get a little silly.