Pico de Gap NY Taco Truck With Menu By Celebrity Chef Katie Lee
Gap Debuts "Pico de Gap" Taco Truck With Celebrity Chef Katie Lee
Next
Since I've never met a taco I didn't like, I'm particularly excited to dig into retail brand Gap's latest adventure — the "Pico de Gap" taco truck. To celebrate its 1969 Fall denim collection, Gap has designed a mini fleet of custom vintage gourmet taco trucks with equally unique and enticing menus to match. As of yesterday, the Pico de Gap taco trucks hit the streets of New York City, San Francisco, and Los Angeles and will continue to make citywide rounds respectively at local Gap stores, special events, street festivals, and more, through Sept. 30.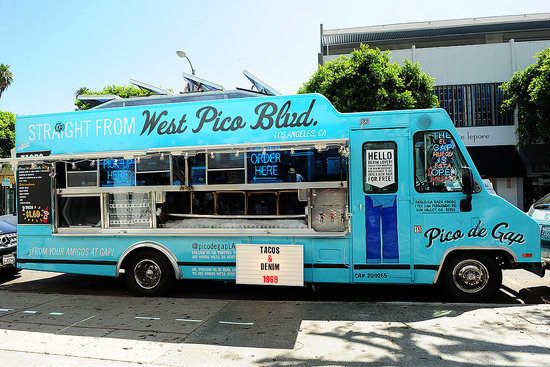 Celebrity chef and New York Times bestselling author Katie Lee has "designed" an exclusive Pico de Gap NY menu. Get two tacos and a beverage for $1.69, or free with proof of a same-day Gap denim purchase. Each order will include a voucher for $20 off the new 1969 Fall denim collection and if you happen to be one of the luckier ones, you might even find yourself with a special voucher redeemable for a free pair of 1969 jeans. Who would have thought that tacos and denim could be such a fashionable duo?
Here's a handful of scheduled Pico de Gap NY stops:
Aug. 10: movies in Riverside Park at 8:30 p.m.
Aug. 17: movies in Riverside Park at 8:30 p.m.
Aug. 20 and 21: Afro Punk festival (VIP area) all day
Aug. 25: The Art of Brooklyn festival from 6 p.m. to 11 p.m.
Sept. 10: Westside County Fair from 1 p.m. to 6 p.m.
For up-to-the-minute taco truck coordinates, follow @picodegapNY.