Roberta's Pizza Opens in Manhattan and Baohaus Opens on 14th Street NYC
Two New Eateries to Try This Week: Roberta's in Manhattan and Baohaus on 14th Street
Next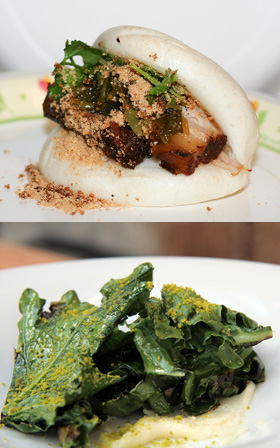 This week just got a swift savory kick times two. While the eateries aren't exactly new, their respective coordinates are, and that's enough novelty for us to ramp up our appetites for the occasion. Bushwick pizza spot (a PopSugar NYC brunch favorite) Roberta's takes over the former Little Veselka space as part of the BMW Guggenheim Lab initiative. Eddie Huang just opened his second Baohaus destination (238 E. 14th St., 646-684-3835) to insane lines and hungry Baohaus fanatics.
Roberta's will pop up on Houston Street and Second Avenue on Wednesday, Aug. 3, and will stay posted there until Sunday, Oct. 16, when the BMW Guggenheim Lab packs up and travels to its next mobile destination. While we'd like it to be more of a permanent move, we'll take what we can get, and that includes not having to trek to Bushwick for our Roberta's fix. The menu will include fresh seasonal salads, specialty sandwiches, burgers, and ice cream. Head there around 1 p.m. on Wednesday to get your first taste.

The Baohaus empire has finally expanded. It was only a matter of time until founder Eddie Huang continued on his path of delicious bao takeover. The second location is on 14th Street between Second and Third Avenue. My first thought was, "This is perfect. I can grab bao on my way to the L stop or as I head to Union Square." The prime location only feeds into the craze more. We hear the lines have been out the door and stock is selling out way before closing time. So you know it's worth a walk over to welcome Huang to the neighborhood.
Source: Flickr User blizzardzz and Roberta's