Royal Wedding Screenings and Parties in New York City
How to Celebrate the Royal Wedding From Across the Pond
Next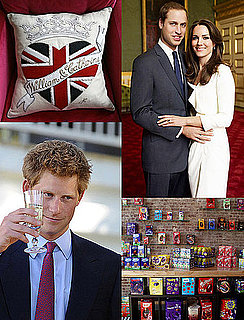 Not only are we a body of water and time zone away from the impending royal wedding, but I have a pretty good hunch that our official invites didn't actually get lost in the mail. Don't fret, though — here are five foolproof ways to keep up with all the regal nuptial hubbub. You can have your (wedding) cake and eat it, too.
Load Up on Snacks The royal wedding is about as epic as you can get so treat it like you would a movie-going experience. And what's one of the most important parts of movie-watching? The snacks! Head to London Candy Company (1442 Lexington Ave., 212-427-2129), which opened only a couple of weeks ago on the Upper East Side, to pick out your favorite British treats. The candy store sells everything from Cadbury and Thornton's to proper digestive cookies (Hob Nobs, hello!) and Terry's.
Public Screenings Don't feel like watching Wills and Kate tie the knot by yourself? The jumbo trons in Times Square will be live streaming the joyous occasion. In addition, TV network TLC will broadcast a special episode of Say Yes to the Dress and music artist Colbie Caillat will perform her single "I Do" live. If braving it midtown isn't your schtick, the DUMBO Improvement District is setting up camp under the Manhattan Bridge for a Brooklyn-ified screening of the vows.
Posh Viewing The alternative to the public screenings is obviously a bit more posh. Make a reservation at the New York Palace (455 Madison Ave., 212-888-7000) hotel and prop your feet — in Palace slippers, no less — in its drawing room while watching the wedding on giant flat screens and feasting on a traditional English breakfast. Another option? The Trump International Tower and Hotel (1 Central Park West, 212-299-1000) is offering a royal wedding room package for a lump sum of cash — but if you're looking to act like royalty, this is an easy, extravagant solution.
Wear British Duds Wear your Friday British best, even though it will still be dark outside! Whether it's Mulberry (605 Madison Ave., 212-453-4722), Stella McCartney (429 W. 14th St., 212-255-1556), or Burberry (9 E. 57th St., 212-407-7100; 131 Spring St., 212-925-9300), flash some anglo-duds in honor of the betrothed Brits.
Weddings Are Just Another Excuse to Party If you can hack the wacky wedding viewing hours, then you deserve a pat on the back, some Magners cider, and how about a block party too? The West Village's British everything store Tea & Sympathy is throwing a block party with its restaurant neighbor Lyon (118 Greenwich Ave., 212-242-5966). Expect Morris dancers (English folk dancers), royal wedding cake, smoked salmon, tea sandwiches, Virgin Atlantic giveaways, and many more English treats!