Shop Scoop's Sample Sale, Vintage Clothing at Met Pavilion, and David Lerner Pop-up on Upper East Side
Weekend Tips: Scoop's Cleaning Out the Closet, Vintage at the Met Pavilion, and More
Next
Instead of staying holed up (although that's not such a bad idea either!) in your apartment, hit up the Scoop sale, go vintage hunting at the Metropolitan Pavilion, and stock up on high-end leg warmers at the David Lerner pop-up shop. I guess it's safe to say that retail therapy is an excellent way to stay warm this weekend.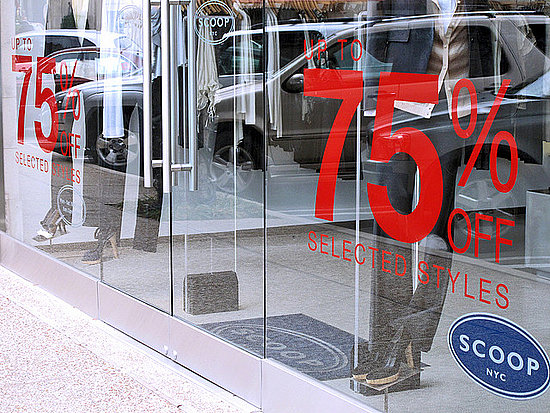 Scoop NYC (473 Broadway, 212-925-3539; 1273 Third Ave., 212-535-5577; 430 W. 14th St., 212-691-1905) is having what seems to be a preemptive Spring cleaning sale, aptly titled "Cleaning Out the Closet." If only the weather mirrored the sentiment of this seasonal sale! Although the markdowns last through Feb. 21, the sale has just begun. You're more likely to get the designer goodies you want the sooner you scoop up the deals. Everything from Matt Bernson and Belle by Sigerson Morrison to Anya Hindmarch and 3.1 Phillip Lim is being liquidated. Love it.

Check out the David Lerner (1435 Lexington Ave., 212-996-6476) pop-up on the Upper East Side. This is where you must go if you need an extra layer or two — the designer specializes in leggings, leg warmers, and lots of other spandex under armor that don't look frumpy in the least. I have to say, a leggings pop-up shop is probably one of the most useful concentrated shopping experiences we could have right now.

The Manhattan Vintage Clothing Show is in full swing — open to the public through tomorrow, Feb. 5. If you love New York vintage meccas like Amarcord Vintage Fashion, A Second Chance, and Archives NYC, you'll be in heaven at the Metropolitan Pavilion (125 W. 18th St., 518-434-4312) space. More than 90 vintage vendors are showcasing, so there's no shortage of well-loved other era wardrobe to sift through. Admission is $20.
Source: Flickr User Nathan Branch