The Standard NYC Ice Rink, Peels Delivery, R.A.D Magazine, and Holiday Tipping — Last Minute Survival Musts
Don't Be a Grinch: Last-Minute Holiday Tips
Next
It can be downright hectic to remember every detail during the holidays, especially now as the countdown to Christmas morning is full speed ahead. In an effort to keep you on task, here are five things to see, do, and gift before the Dec. 25.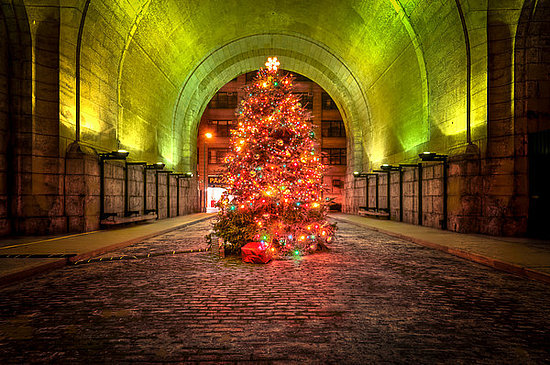 Don't forget to show some love to those who helped you all year round. Yes, I'm talking about your doorman, your landlord, whoever it is that holds the door for you, fixes the leaks, makes sure your toilet runs just fine, and brings up your groceries. Holiday tipping should never be forgotten — and while homemade baked goods are sweet, they are no substitute for some well-earned cash. As a general rule of thumb, tip your super/landlord/resident manager $100 to $175 and your doorman (if you're lucky to have one) $75 to $150. Other people that should be on your tipping radar, if applicable: your dog walker, your babysitter or full-time nanny, your mail carrier, and your housekeeper.
While out shopping, take a moment to look up. Dior (19 E. 57th St., 212-421-6009) has created a chic festival of lights against the facade of its renovated flagship. Artist Christian de Portzamparc designed the silhouette of a fashionable femme, toting a signature Dior bag along the length of the building. It's quite a spectacle and definitely worth stopping to pay homage to the French brand in all its Dior-rama glory.

Don't stress over the many baking and cooking demands that come with Christmas Eve and Christmas Day — my go-to Bowery favorite (below), Peels NYC (325 Bowery, 646-692-7015), will pick up the baked goods slack. If you've ever stared at the pastry case here (how could you not?), then you probably already have a mental itemized list of what sticky buns, lemon seed cakes, mince tartlettes, and honey caramel treats you want. Good thing, too, because you can now place bulk and $13 pastry sampler orders via the restaurant's in-store form. Not a whole lot of thought required; just delicious holiday treats ready for pickup.

I've given countless shopping tips and gift suggestions for you, your girlfriends, your man but! now I come to you with something rad for the much younger set and at no cost. R.A.D (also known as Read and Draw) is a ridiculously cool, creative, and kooky kids 'zine, brought to you by (presumably) the coolest Brooklyn parents around. Every two weeks, a new issue is available and jam-packed with educational graphics and fold out posters. R.A.D can be picked up in different Brooklyn boutiques, like Sweet William (112 N. 6th St., 718-218-6946).

And if you're completely overwhelmed with holiday prep work, just walk away from it. For an hour or two. I just got wind of The Standard New York's (848 Washington St., 212-645-4646) newly installed ice skating rink (as if these skating rinks weren't enough!), and it seems like a perfectly hip way to get away from it all. Located in the plaza in front of the hotel, the huge rink will feature skate instructors in custom black Roxy snow suits and an aprés-skate menu that includes a "spike anything" note. I'm not sure drinking and skating go well together but in the spirit of Winter festivities, I'll take it!
Source: Flickr User mudpig and R.A.D