Summer Hair Tips From Oprah's Stylist
4 NYC Summer Hair Survival Tips From Oprah's Mane Man
Next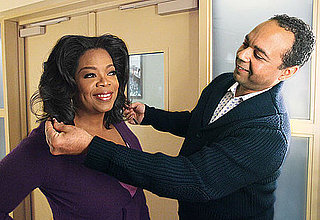 I'm sure you're familiar with Oprah's greatest hair and beauty moments, but how often do we get to chat with the man behind these memorable looks? Not very. So I jumped at the opportunity to glean a tip or two from Andre Walker, Oprah's Emmy award-winning stylist of more than 25 years, at Soho House New York's Cowshed Spa (29 Ninth Ave., 3rd Fl., 646-253-6111). You can bet I felt the weight (and excitement) of meeting and talking hair maintenance with the guy who has worked his coif magic on a living female legend. Too lofty a statement? I think not.
It was time to find out what Walker had to suggest for Summer hair survival in NYC. I know I'm not the only one who feels like it's nearly impossible to look well-groomed for more than five minutes in the city's extreme heat-drenched elements. Here are four tips from one of Chicago's beauty elite on how to stay classy in the face of broiling humidity, the MTA's bus exhaust trail, and grimy subway residue.
On how to keep the flyaways and frizz to a minimum: "Use a high quality argan oil (like the Q -Oil Quench-Essential Oil) that's clear colored, not like some of the oils on the market that look a bit more yellow or gold. Someone with blond hair using a colored oil will stain their hair. What you really want the argan oil for is the nutrients and to smooth down your hair, not to mess with the color. My Q-Oil product leaves your hair sleek but never greasy. For the Summer, that balance is so important. Overdoing any product usage will result in heavy-looking hair."

On how to look polished without the use of heat tools: "It's so hot outside that you probably are going to want to stay away from blow dryers and flat irons. Aside from that, you should stay away from them because they're extremely damaging. To look fresh — even in the heat — throw your hair up in a ponytail. Giving your pony a little height at the top looks polished and disguises any trace of second-day hair."

On how to maximize days between shampooing and conditioning: "You have to keep your hair balanced, which means you have to always shampoo and condition. Never one or the other on the days that you are getting your hair wet. The Phytocelltec Botanical Stem Cell shampoo and conditioner I've designed is for all hair types, never weighs your strands down, and cleans each strand without stripping it. Whether you have fine, thick, curly, whatever hair, you'll get a clean wash and trust me, it will go a long way."

On how to keep the shine even after multiple weekend trips to the beach: "Condition, condition, condition! You have to restore the moisture and prevent dry ends. If you're out at the beach or even just in the sun walking around the city, you are stripping your hair of its natural moisture. I know it seems counterproductive to keep conditioning hair especially when it's hot outside, but you have to. My newest product, Total Keratin Obsession, is a deep conditioning hair mask. Use it once a week, put it on, cover your head with damp warm towel, chill for 10 minutes, have a glass of wine, and you're done. It's important to keep replenishing your keratin levels, which are constantly being chipped away at. Your hair will look amazing and so healthy."
Source: Oprah