Top 10 NYC Desserts: Buttercup Bake Shop, Chikalicious, Momofuku Milk Bar, Jacques Torres, and More
Top 10 of 2010: NYC's Sweetest Treats
Next
Coming to the end of another year can be bittersweet — but I'd prefer to focus solely on the "sweet" part. Even though PopSugar's FreshGuide NYC has only been around for a couple months, we still fancy ourselves dessert connoisseurs. Here's our top 10 treats to round out 2010 on a sugar high (note).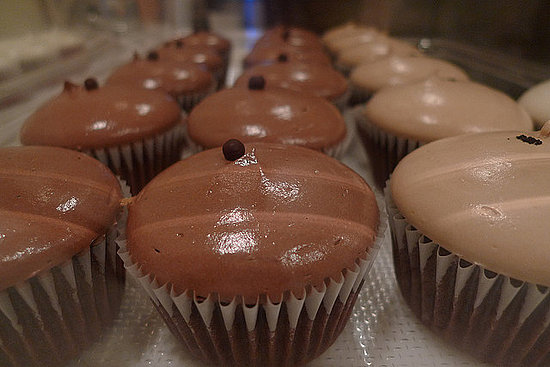 Double Chocolate Cupcakes (above) from Chikalicious Dessert Bar (203 E. 10th St., 212-475-0929) The subtle cocoa flavor and moist density kills.
French Confections from Patisserie Claude (187 W. 4th St., 212-255-5911) Get there early for freshly baked croissants that are buttery and flaky in all the right places.
Tiramisu from Cafe Lalo (201 W. 83rd St., 212-496-6031) Light, fluffy, and rich — a rare combo. One of the best versions of tiramisu I've tasted in NYC.
Red Velvet Cupcakes from Buttercup Bake Shop (973 Second Ave., 212-350-4144; 141 W. 72nd St., 212-787-3800) The cake is moist, the cream cheese frosting is perfection, and, to be honest, Buttercup's red velvet cupcakes got me through a very bad breakup.
Crack Pie (below) from Momofuku Milk Bar (207 Second Ave., 212-777-7773) The gooey butter filling plus toasted oat crust gets me every. single. time.

Exotic Flavors from Chinatown Ice Cream Factory (65 Bayard St., 212-608-4170) Get a scoop of homemade (by your Chinese grandmother) ice cream in flavors like red bean, black sesame, zen butter, and almond cookie.
Hot Chocolate from Jacques Torres (various locations) Hot chocolate and chocolate confections (below) are sublime here. I'm pretty sure the French were born with an extra baking gene.

Figs and Honey from Maialino (2 Lexington Ave., 212-777-2410) Danny Meyers never fails to treat diners to something delicious — the ricotta custard and honeyed fig compote is creamy, sweet, but never too decadent.
Buttermilk Cupcakes from Twelve Oaks Bakery (thebaker@twelveoaksbakery.com) The lemon cream cheese frosting is to die for!
Bread Pudding from Blue Ribbon Bakery (35 Downing St., 212-337-0404) Request the banana walnut pudding, crusty around the edges, sweet and soft in the middle.
Source: Flickr User joyosity, Flickr User jhritz, and Flickr User yuko chan