Victoria Horning NYC Accessories Designer Interview
Local Lust: 8 Questions With Accessories Designer Victoria Horning
Next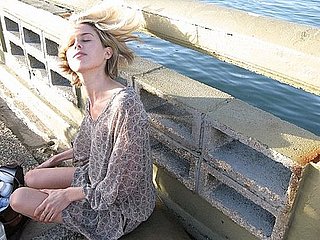 This week's local lust comes to us by way of San Francisco roots, world travels, intern stints at Alexander Wang, Nina Ricci, and Vogue, and most important, her solid home base in New York City. Accessories designer Victoria Horning is the kind of girl I want to hang out with when I'm not lusting over her understated, cool, and "seasonless" handbags. She lives in New York the way we all should, exploring and appreciating her surroundings and honing her craft in a very hands-on, localized way.
Her dedication and hard work has recently landed her collection in SoHo's Curve Boutique (83 Mercer St., 212-966-3626). Besides designing accessory staples we all need in our city wardrobe, Horning can dish some pretty amazing around town spots for drinks, downtime, and more.
On what it's like to be a young designer in NYC: "I love being a designer based in NYC. The fact that I can source all my materials here, work with local sample makers, and produce my bags all in the garment district makes me proud to support the local fashion industry. It's important to be involved in every step of the process, and New York gives me the ability to oversee every single detail. Also, the city seems to be very open to new designers, so I am excited to see my company grow here."

On the things she needs to survive in NYC: "Patience, a sense of humor, and a secret hideaway to escape those moments of stress when racing through the streets. Mine is a secret garden on Hudson Street, next to St. Luke's Church (487 Hudson St., 212-924-0562).

On her caffeine fix favorites: "I always start my day with a cup of Mariage Freres french breakfast tea, but after that I am usually off to Stumptown Coffee Roasters (18 W. 29th St.) for a mocha before checking in on the factories in the garment district. I've tried every mocha in this city, and you won't find anything like this."

On her favorite NYC spot for cocktails: "Dell'Anima's (38 Eighth Ave., 212-366-6633) roasted orange negroni sbagliato. I learned about this drink while living in Milan."

On her current local lust: "I'd have to say ABC Kitchen (35 E. 18th St., 212-475-5829). I dream about the carrot salad and I go to the elixir bar when I can to get this incredible banana smoothie. Oh, and that sundae with the caramel popcorn and chocolate sauce! Everything on that menu is amazing."

On what piece from her collection is an NYC girl must have: "That's a tough one because even I have a hard time choosing which bag I want to carry every day. I'd have to say right now I love the Cluny [the white bag] if I want something a little more sophisticated and the St. Germain [the gray bag with fringe], which is a little less formal. The Rosiers [the black clutch] is a little edgier and good for a night out. Each bag is unique and made for different tastes."

On her travels around the world and why she keeps coming back to NYC for more: "I am completely in love with Europe, especially Paris. Every time I am there, I walk for hours and get lost in the city, discovering new specialty stores, bistros and parks. The culture, the arts and beauty of the city is overwhelming and I think that is why I named my bags after the streets of Paris. It's my way of keeping Paris a part of me while I live here. I also think European style is so effortless; the girls in Paris know how to look chic but not overdone in any way, so I try to incorporate that into my line as well. [But I always come back to NYC because of] the energy here. There are new restaurant openings every week and the galleries. You really have the best of the best here, and I am always discovering something new every day."

On what's next: "I'm working on putting more bags into production and at the same time coming up with some new Fall/Winter designs. I'm also looking into bringing my designs to the West Coast. In the future I will be branching out into footwear and will be working with the shoe factory I apprenticed for in Italy."