Weekend Activities NYC
Weekend Tips: Big Apple BBQ, Renegade Craft Fair, and More
Next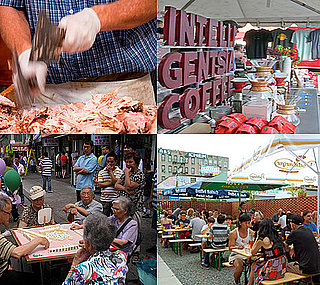 If you're not planning to jump on the Jitney for an "island" getaway, here are five ways to rock out your weekend warrior status in more than one borough. Theophilus London fans, crafty folk, meat lovers, and mah jongg players unite — this weekend is yours.
Friday
Tonight marks the final concert in the free Audiophile series at Brooklyn Museum (200 Eastern Parkway, 718-638-5000). Brooklyn hip-hop artist Theophilys London will headline and you can bet he'll be performing tracks from his not-yet-released album Timez Are Weird These Days. Get a leg up on London's new stuff for absolutely free — a little night music sounds like a great way to kick off the weekend, right?
Saturday
Check out the ninth annual Big Apple Barbecue Block Party in Madison Square Park on Saturday and Sunday (from 11 a.m. to 6 p.m both days)! The weekend-long cookout brings together the country's top 16 pitmasters, who then cook their signature BBQ meats for more than 100,000 barbecue enthusiasts. I'd say it's a pretty intense meat experience, but if you're going to do barbecue, you might as well do it big. Although the block party showcases BBQ talent from far and wide, New York is represented well in the lineup. Blue Smoke's Kenny Callaghan, Rack and Soul's John Wheeler, Dinosaur Bar-B-Que's John Stage, and Hill Country's Charles Grund Jr. will all be grilling their respective specialties both days. The fast pass option has sold out but admission to the event is free. To chow down, the asking price is $8. But if consuming large quantities of meat isn't really your thing, you can opt for something a bit more high brow. The Renegade Craft Fair is back in McCarren Park (780 Lorimer St., 718-965-6580) for its seventh annual Brooklyn fair on Saturday and Sunday from 11 a.m. to 7 p.m. Expect to browse through the best indie craft and DIY wares from both local and national talent. In addition, you can get in on the art by attending craft workshops throughout the day. Admission is free.
To finish off your Saturday on a chill note, stop by Loreley Williamsburg's (64 Frost St., 718-599-0025) garden grill party for its first anniversary from 3 p.m. to 4 a.m. Enjoy 12 different kinds of sausages grilled outdoors, specialty summer beers, and live music. If you're one of the first 100 guests, you'll receive a free glass of a Hofbräu Münchner Sommer Naturtrüb — a limited-edition German Summer beer. After a long day of crafting and eating the best BBQ around, lounge in Loreley Williamsburg's outdoor beer garden for a calm night under the stars.
Sunday
The Egg Rolls and Egg Creams Festival returns to Eldridge street on June 12 from noon to 4 p.m. This block party is organized by the Eldridge Street Synagogue (12 Eldridge St., 212-219-0888) and is held at the foot of Eldridge street. Like its title suggests, there will be a feast of egg rolls and egg creams to indulge in, along with all the festival essentials: Chinese opera and acrobatics, klezmer music, Yiddish and Chinese language lessons, mah jongg, scribal arts, crafts, synagogue tours, and food and folk art demos. It's a cross-cultural celebration of the Jewish and Chinese communities that could only be done to this caliber on the Lower East Side.
Source: Flickr User renegadecraftfair, Big Apple BBQ Block Party, and Flickr User boweryboogie