Yoga Dance Parties in NYC
Fitness Trendspotting: Yoga Dance Parties Are All the Rage
Next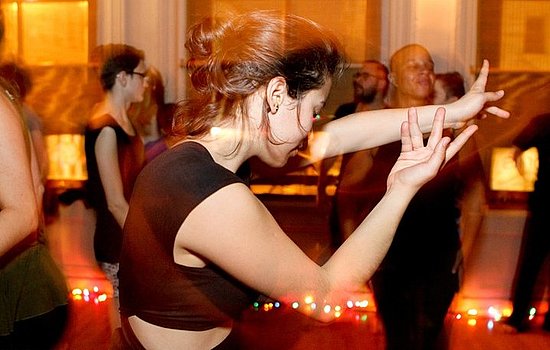 These days yoga seems to be the "gateway" exercise to other forms of movement. In that no one really wants to give up the meditative and core qualities that yoga possesses but everyone wants to add a new spin. Case in point: we noticed a cool new breed of yoga styles emerge earlier this year that incorporated elements of break-dancing, capoeira, hip-hop, and martial arts into its vinyasa yoga foundation. But this latest yoga trend really tugs at my heart strings because it fuses two of my favorite pastimes: yoga and dancing! Talk about working up a sweat on the mat-meets-dance floor.
Forget the Meatpacking District nightclubs and the overpriced bottle service; these yoga-dance combos are good for your soul and come at a much more forgiving price. Yogi Aarona Pichinson of Yoga of Nourishment has jump-started a Friday night yoga dance party called Yoga Soundscape at the Kula Yoga Project (28 Warren St., 4th Fl., 212-945-4460) in Tribeca. Every week the class hosts a special guest musician or DJ as you move through each asana with an even stronger sense of rhythmic flow. The space allows for maximum freestylin' action, so bring your best poses and dance moves to the studio every Friday at 6:30 p.m.
Where else can you get your yoga dance on?
Global movement Get Your Dance On works more like your typical hot party-about-town. Where and when the next fiesta hits is determined case by case, so that both the venue and the vibe is fresh. Most recently, Get Your Dance On has taken over Judson Church, Urban Zen, and YogaWorks SoHo. The evening begins with yoga and transitions into a full-on dance party by midnight, with a proper DJ area to rock out in and a more chilled out section for less intense mover-and-shakers featuring cellists and didgeridoos (no joke). Unlike typical club atmospheres, you won't be waking up with an alcohol-laced hangover. Get Your Dance On has a ridiculously healthy line-up of sponsors including Whole Foods, Vita Coco, Beyond Kombucha, Gnosis, and Chocolatl Raw Choclate, all of which ensure that the only way you'll be waking up the next day is refreshed and fulfilled. Keep yourself updated on the next dance party here and the best bit? You don't even need to put on your dancing shoes.
Source: Get Your Dance On