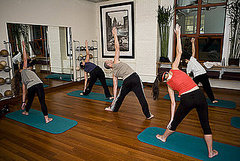 Marisa Tom

| January 3, 2011 8:00 am
Welcome to the change you didn't even know you needed. With Circuit of Change, you are initiated into a real members' only (fitness) club. Just be sure to drop the ego at the door.
Read More
Marisa Tom

| December 28, 2010 8:00 am
Working toward a slimmer, svelte body has never been more fun or fearless. Sally Blenkey-Tchassova, founder of Brazil Bronze Glow Bar, has created yet another way for ladies to feel (and look) positively pretty with Burlesque Bikini Bootcamp. Blenkey-Tchassova touts the class series as a way to "learn the burlesque secrets of the boudoir salon."
Read More